'Glaring inaccuracies': Georgian businessman claims he was misquoted in Mueller report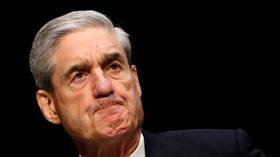 A Georgian businessman requested a correction to a footnote in special counsel Robert Mueller's final report, claiming his text to Donald Trump's lawyer Michael Cohen about 'compromising tapes' was altered in a misleading way.
In a letter to US Attorney General William Barr, lawyers for the businessman, Giorgi Rtskhiladze, say the office of the special counsel "spliced the dialogue" in the report "to produce the ugly insinuations and allegations of Footnote 112 to attract publicity – all while impugning Mr. Rtskhiladze's character."
The report contained "glaring inaccuracies," the letter added.
Also on rt.com
READ: US Justice Department releases Mueller report on Trump-Russia 'collusion' investigation
The footnote in question alleges Rtskhiladze, in an October 2016 text message, told Trump Organization attorney Michael Cohen that he had "stopped the flow of tapes from Russia," which the report describes as "compromising tapes of the President involving conduct when he was a private citizen during a 2013 trip to Moscow."
The report omitted the word "some" from "some tapes from Russia," as well as several other comments to Cohen that would suggest the two were merely discussing rumors, Rtskhiladze told Bloomberg.
"Not sure of the content but person in Moscow was bragging had tapes from Russia trip. Will try to dial you tomorrow but wanted to be aware. I'm sure it's not a big deal but there are lots of stupid people," Rtskhiladze wrote in the texts that he shared with several media outlets on Wednesday.
Cohen approached Rtskhiladze in 2015 because he knew the Georgian had also pursued business ventures in Moscow, and thought he could advise the Trump Organization on its ill-fated Moscow Trump Tower project.
Also on rt.com
No, Mueller didn't 'prove' Russian hacking in Florida – or anywhere else
During its investigation the special counsel's office interviewed Rtskhiladze twice, and has yet to respond to the allegations.
Think your friends would be interested? Share this story!
You can share this story on social media: