Newest US Democratic candidate says he won't build a wall, even if Mars attacks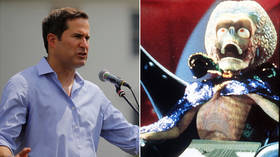 A Democratic congressman joining the jam-packed 2020 US presidential primary field has assured voters he'll use diplomacy, not weapons or walls…to combat an alien invasion. Finally, a candidate who cares about the issues!
"I would not build a wall between here and Mars," Massachusetts Rep. Seth Moulton told the hosts of Buzzfeed's AM2DM podcast, who asked him what he would do if he was president during an alien invasion.
"You've gotta start with diplomacy," Moulton continued, glossing over the mix-up of his immigration and national-security soundbites. "What I would do with this alien is I'd give him a classic American meal. I'd serve a beer and a burger. . .If the meeting starts to not go so well, I'd say, by the way, that burger, those were the last aliens who visited," Moulton concluded.
Even the hosts admitted Moulton faces an uphill battle for the nomination, joking that the top questions their audience wanted to ask him after he announced his candidacy Monday morning included, "Why?" and "Who is this guy?" At last count, there are over 20 candidates vying for the chance to wrest the presidency from Donald Trump – whom Moulton, like many of his competitors, ironically calls the "most divisive president in American history."
Aside from his positive views toward the possibility for extraterrestrial diplomacy, Moulton rehashed the same talking points as the competition, and emphasized the need for Democrats to be more patriotic and national-security-oriented, since – according to him – that's where Trump is weak. Though with a record number of bombs dropped under Trump and combat operations underway in over 130 countries – mostly under the pretext of euphemisms like "humanitarian intervention" – it's hard to see how the US could be more "national-security-oriented."
Also on rt.com
Eric 'Nukes for Gun Control' Swalwell announces 2020 presidential run
Moulton is on the same page with most of the 2020 pack regarding the evilness of Russia – he declared "the unmistakable conclusion of [the Mueller] report is that Russia wanted Trump to get elected," and called Russia "the only country on earth that can literally wipe out all life in America" – but with the line for the post of Russia-blamer-in-chief as long as it is, maybe he could hold out for a position as Ambassador to Mars.
If you like this story, share it with a friend!
You can share this story on social media: