'From pariah to linchpin in proving anti-Trump spy scandal'– George Papadopoulos to Larry King on RT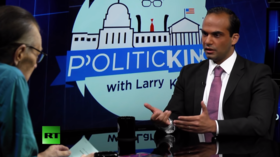 "Entrapped" by FBI agents in London, ex-Donald Trump campaign adviser George Papadopoulos shared the mysterious circumstances that led to his arrest – and to the opening of the Mueller probe – with Larry King on RT's Politicking.
Papadopoulos told King he was snared by the FBI for alleged contact with a Russian operative in London in 2016. Despite pleading guilty to lying to FBI agents, Papadopoulos thinks he was set up in a plot to take down the Trump campaign.
With the Mueller report finally public, Papadopoulos believes future investigation into the FBI's surveillance operation on the Trump campaign will "expose something a lot more sinister than these fake Russian contacts that I apparently had that got me in the middle of the crosshairs."
Watch the full exclusive interview on RT America.
Like this story? Share it with a friend!
You can share this story on social media: