Citizen's arrest or kidnapping? US militias told to stand down after catching 300+ migrants (VIDEOS)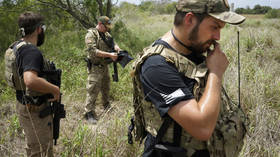 US authorities are warning wannabe vigilantes against taking the law into their own hands after an armed militia group detained over 300 migrants earlier this week at the Mexican border in what they claimed was a citizen's arrest.
"These individuals should not attempt to exercise authority reserved for law enforcement," New Mexico Attorney General Hector Balderas said in response to reports that members of the United Constitutional Patriots militia – which claims to be made up of ex-cops and veterans – had captured a massive group of illegal immigrants after they entered the US through a fence near the town of Sunland, New Mexico earlier this week.
An armed militia is rounding up immigrants in New Mexico and beyond the obvious implications I fear for every visibily latino individual who might encounter a group of this nature. The manhunt for these assholes should be national. pic.twitter.com/ghWZ7WqR93

— nikki mccann ramírez (@NikkiMcR) April 18, 2019
The American Civil Liberties Union wrote a letter to state government denouncing the militia for "undermin[ing] the legitimate efforts of our state's law enforcement officials to keep New Mexico families safe."
We cannot allow racist and armed vigilantes to kidnap and detain people seeking asylum.
UCP member Jim Benvie disagrees with this characterization, claiming the members on Monday night's patrol merely gave a "verbal order of arrest" to the migrants, who sat and kneeled in place until the Border Patrol arrived.
We can't make them stay if they don't want to.
He told the New York Times that group members were specifically told not to point their guns at any of the migrants. He says the group has to be heavily armed because their mission interferes with the cartels' human trafficking operations, and claims militiamen even offered the migrants $20 to rat out the smugglers who helped them across the border – but no one took the offer.
A video of the mass arrest shows hundreds of migrants sitting and kneeling complacently as the camerawoman marvels at how many children and sick people are coming in "right through our backdoor." "I don't know what to say about this, other than the fact that it's gotta stop," she says. The lengthy clip, which was streamed live over Facebook, shows the Border Patrol arrive and walk the massive group through the desert. The militiamen appear to be on good terms with the Border Patrol officers.
US Customs and Border Protection wouldn't comment on the group specifically, but admonished would-be heroes to call 911 instead of taking matters into their own hands if they suspected illegal activity.
Interference by civilians in law enforcement matters could have public safety and legal consequences for all parties involved.
Despite the official disapproval, the UCP sees its role as a helpful one. "We're people that care about our strained Border Patrol," Benvie said. The group's leader, who calls himself Johnny Horton Jr., claims they have detained over 3,500 migrants in the last month alone, while Benvie says the Border Patrol has never told them to stand down. They plan to continue the patrols until President Trump builds his long-anticipated border wall.
Like this story? Share it with a friend!
You can share this story on social media: