Trump's Secret Service chief 'asked' to step down amid Homeland Security shake-up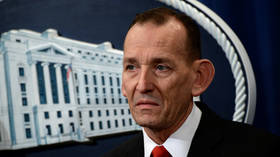 The White House has confirmed that the head of the US Secret Service, Randolph 'Tex' Alles, is leaving the Trump administration after reports of his impending ouster. Alles, however, insisted that he has not been "fired."
Alles has been asked to leave on Monday, the White House confirmed, following reports by mainstream media outlets citing anonymous administration officials. James Murray will take over as director starting in May.
Unconfirmed reports citing anonymous sources also say that United States Citizenship and Immigration Services (USCIS) director Francis Cissna and DHS General Counsel John Mitnick will be asked to leave as well.
In a letter to staff circulating on social media, Alles dismissed media reports that he had been sacked by Trump, claiming that his departure was part of the pre-planned "transition of leadership" of which he was informed "weeks ago."
DHS Secretary Kirstjen Nielsen suddenly resigned on Sunday, shortly after returning from a trip to the US-Mexico border with Trump. Kevin McAleenan, the current US Customs and Border Protection (CBP) commissioner, was named as her acting replacement.
Alles took over as head of the Secret Service in April 2017. Before that, he worked for CBP in a variety of capacities since his retirement from the US Marine Corps in 2011. Alles had been a Marine aviator, piloting combat jets and commanding Marine air wings during the Iraq War. He retired with the rank of major general.
Also on rt.com
US Secret Service busts 'Chinese spy'… after letting her freely walk into Trump's Mar-a-Lago
There was no official explanation why he may have been asked to leave. Last week, a Chinese national was caught at Trump's Mar-a-Lago resort in Florida, in possession of a flash drive containing malware. A Secret Service agent reportedly allowed her to enter due to a "language barrier" misunderstanding.
If you like this story, share it with a friend!
You can share this story on social media: