Horrifying moment of deadly Florida highway helicopter crash caught on camera (VIDEOS)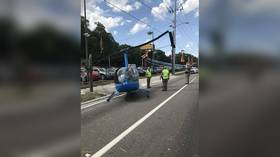 Tragedy struck out of nowhere on Thursday when a helicopter fell out of the sky onto a busy highway. One of the aircraft's rotor blades shattered on impact and flew off, striking a pickup truck, killing the driver instantly.
The helicopter was carrying two people, described as highly trained pilots, in Sarasota, Florida when the incident occurred. The helicopter's engine reportedly failed at roughly 2:20pm local time, forcing the pilots to make a hard landing on a busy road, with fatal consequences. CCTV footage of the exact moment of impact has been shared online.
A man driving a Chevrolet Silverado pickup truck was struck by the helicopter's rotor blade, and was pronounced dead at the scene. His son, who was in the passenger seat, was taken to Tampa General Hospital, where his condition is unknown. The two pilots on board the helicopter emerged unscathed.
All lanes adjacent to the crash site were temporarily closed for a period of six to 12 hours while preliminary forensic investigations were carried out.
Police have yet to release the name of the man killed in the freak accident.
Think your friends would be interested? Share this story!
You can share this story on social media: