Manipulation or mocking? Feinstein shamed after argument with climate change kids goes viral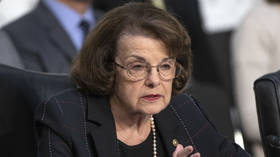 California Senator Diane Feinstein's condescending reaction to a group of schoolchildren brought into her office to plead for her support for the Green New Deal is going viral, provoking an apology and a climate bill of her own.
When 15 young people from Sunrise Movement, a group whose stated mission is "building an army of young people to stop climate change," arrived at Feinstein's office to demand she back Rep. Alexandria Ocasio-Cortez's Green New Deal in order to avert the environmental catastrophe predicted by last year's IPCC report, the Senator's reaction ranged from dismissive - "We have our own Green New Deal" – to insulting – "You didn't vote for me," sparking hot debate on social media.
In the video, with the same "Now This" viral branding as the infamous edit of the Covington Catholic School confrontation, the school-age activists outline their concerns, focusing on the report's 2030 deadline for action, while the Democratic senator appears to brag repeatedly about the number of votes she got in the last election and to mock the young idealists.
Many, predictably, saw Feinstein as a monster,
while others rolled their eyes and applauded her for not giving in to "emotional manipulation."
Others said regardless of whether the kids were "right," it was Feinstein's treatment of the kids that was problematic.
…or was it Sunshine Movement activists' use of the kids that was worse?
Others argued over the Green New Deal itself,
Or pointed out that Californians have been trying to remove Feinstein for years now.
The public shaming actually had an effect, leading Feinstein to release a brief public statement…
…and when that didn't work, draft climate legislation of her own!
"Mission accomplished, eh Putin?" said no one at all.
Also on rt.com
Merkel blames 'outside influence' for kids' climate change protest… but could it just be a protest?
Like this story? Share it with a friend!
You can share this story on social media: