5 victims & gunman dead in shooting at Illinois steel facility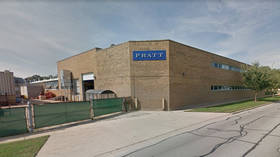 Five people have been killed after a gunman opened fire at co-workers at a steel facility in Aurora, Illinois. Five officers were injured by gunfire. The suspect was pronounced deceased shortly after being taken into custody.
Aurora police responded to the reported shooting shortly after 2pm local time, with ATF and FBI agents following shortly afterwards.
The shooter was taken into custody at 3pm local time, the city reported on Twitter.
Police have confirmed that five civilians, all employees of the plant, were killed after the gunman, identified as 45-year-old Gary Martin, went on a shooting rampage inside the facility.
Five officers who responded to the active shooter incident were injured, including two who were airlifted to hospital.
Martin was apprehended by police but later died.
City spokesman Clayton Muhammad reported earlier that the shooter was "neutralized."
The suspect has a criminal record, having been arrested in 1994 for an aggravated assault in Mississippi. According to witnesses, Martin had been an employee at the steel facility for over 15 years.
Police are now combing through his telephone records and searching his house in a bid to establish the motive.
With no official word on the shooter's motive, there have been reports that Martin was laid off from his job at the assembly line a fortnight ago, which allegedly caused him major distress.
Rush Copley Hospital in Aurora has reported that it admitted two victims of the shooting and was treating them for non-life threatening injuries.
One witness who escaped the building told local news that he recognized the shooter as a coworker.
He was reportedly firing indiscriminately inside the building, the employee told ABC7.
Witnesses told Rivera the alleged gunman showed up for work like "any other day" on Friday.
Illinois Governor J.B. Pritzker tweeted that he is monitoring the situation, while calling on the locals to follow police guidelines.
The incident comes almost a year and a day after a gunman opened fire at Marjory Stoneman Douglas High School in Parkland, Florida, killing 17 students and staff members.
You can share this story on social media: