'Back to school necklaces': Outcry after Long Island school posts bizarre noose poster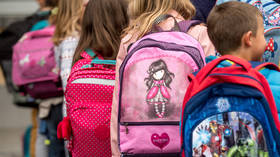 A Long Island middle school is under fire over a classroom collage depicting two nooses as "back to school necklaces," which has been described a highly offensive and racist by shocked locals.
A photograph of the strange collage at Roosevelt Middle School was shared to Facebook by Pastor Arthur Mackey, who said a teacher at the school sent it to him. According to Mackey, three teachers were pictured posing next to the collage, which was hung up in one of their classrooms.
"Dolls with nooses around the necks were also distributed to the children of color by these three teachers at Roosevelt Middle School in Nassau County, Long Island, New York," the pastor also alleged.
People posted shocked responses to the pastor's post, with some calling for any staff involved to be fired outright.
Responding to outcry over the threatening imagery, the Roosevelt School District said "appropriate action" was taken after an investigation into the complaints. "The Board of Education has zero tolerance for the display of racially offensive images," it said, Long Island News 12 reports.
READ MORE:Nazi-inspired high school dance invitation triggers avalanche of outrage in Minnesota
It isn't clear what action was taken against those involved, and the school district has not provided any more information. RT.com has contacted the school authorities for comment.
Roosevelt Middle School's student body for the 2017-18 year was 55-percent Hispanic or Latino, and 45 percent African-American.
Think your friends would be interested? Share this story!
You can share this story on social media: