'Indentured servants!?' Virginia 'blackface' governor's euphemism for slavery triggers 2nd roasting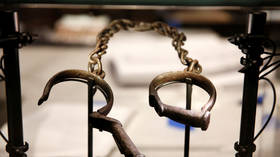 Already facing calls to resign over his 'blackface' scandal, Virginia Governor Ralph Northam triggered more outrage, mockery and some serious fact-checking, after referring to the first Africans in the US as "indentured servants."
Some 400 years after the first Africans were brought to Point Comfort, known today as Fort Monroe in Hampton, Virginia, American society remains divided over its bitter heritage – as well as the semantics of the term 'slavery.' A heated debate over the proper classification of first black settlers erupted on Sunday, after Governor Northam shared his perception of the history of the state.
"The first indentured servants from Africa landed on our shores in Old Point Comfort, what we call now Fort Monroe, and while …" the governor was telling CBS This Morning co-host Gayle King before the presenter interrupted to correct the politician, clarifying that the term Northam used is much better known as "slavery."
Also on rt.com
'Wasn't me, I wore blackface on another occasion': Virginia gov backpedals on yearbook photo scandal
The seemingly bizarre euphemism immediately drew criticism and mockery, yet some tried to defend the embattled governor noting he was "technically" correct to call that particular group "indentured servants," because the term "slavery" was only introduced in Virginia state laws in 1661.
Yet others argued that despite any legal shenanigans, the first Africans couldn't be called anything but slaves, because they were traded as commodities.
Northam's controversial choice of words predictably triggered a new wave of calls for his resignation.

Like this story? Share it with a friend!
You can share this story on social media: