'Brilliant!' Trump applauds Democrats' Green dream to 'eliminate all planes, cars, cows & military'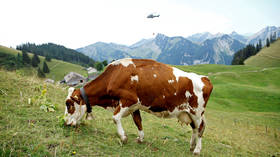 US President Donald Trump has mocked the so-called Green New Deal initiative spearheaded by freshman Congresswoman Alexandria Ocasio-Cortez (NY-14), seeking to 'revolutionize' the US economy by any means necessary.
"I think it is very important for the Democrats to press forward with their Green New Deal. It would be great for the so-called 'Carbon Footprint' to permanently eliminate all Planes, Cars, Cows, Oil, Gas & the Military – even if no other country would do the same," the US leader tweeted Saturday.
Also on rt.com
The 'shocking details' of the Green New Deal
The billionaire businessman and a proud climate change skeptic stopped short of traditionally branding it the 'worst deal' ever, but he apparently believes spending trillions to fully transform and rebuild the US economy would be a waste that'd undermine America's competitive advantage on the world stage.
Trump's critics predictably flooded him with personal attacks, accusations of selling Americans' future to oil corporations and arguments that the Democrats at least have some kind of a plan.
His supporters in the meantime have been calling out the advocates of the proposal as hypocrites, who just pretend to care about climate while flying private jets, going as far as calling the Green movement 'the new Red'. They also mocked the botched roll-out of the half-baked initiative, where the draft document published by 'mistake' featured some mind-boggling passages like the one offering economic security for all who are "unwilling to work."
If you like this story, share it with a friend!
You can share this story on social media: