Elizabeth Warren officially launches her 2020 presidential bid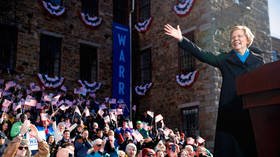 The fight to be the Democrats' candidate in 2020 is heating up, with Massachusetts Senator Elizabeth Warren officially launching her campaign, days after apologizing afresh for having previously claimed Native American heritage.
"This is the fight of our lives. The fight to build an America where dreams are possible, an America that works for everyone," Warren said at the campaign launch in Lawrence, Massachusetts. "And that is why I stand here today: to declare that I am a candidate for President of the United States of America."
Warren joins a growing list of Democrats kicking off their White House bid, including fellow Senators Kamala Harris and Cory Booker.
Warren's campaign appears to be targeting the US middle class, which she says has been "hollowed out" by the super-rich. The aspiring presidential candidate promises to put the power back in the hands of the common folk – while slapping the rich with progressive taxation.
"We need to put power back in the hands of workers, and take on Wall Street so that the big banks can never again threaten the security of our economy," Warren said.
A vast part of Warren's campaign promises are aimed at corruption, as she vows to end "lobbying as we know it." At the same time she promises to "ban foreign governments from hiring lobbyists in Washington."
Warren found herself mired in controversy for her earlier claims of being part Cherokee, possibly most pointedly by US President Donald Trump, who refers to her as 'Pocahontas' in his tweets. To back up her claim, Warren released the results of a DNA test in October, which she said showed strong evidence of Native American ancestry. Critics questioned the accuracy of the test, which found the ancestry dates back six to 10 generations.
Warren on Wednesday was forced to apologize after the Washington Post revealed that she listed her race as "American Indian" in a Texas bar registration back in the 80s, admitting that there might be other documents on which she applied her "understanding" of family roots.
Also on rt.com
'I can't go back': Elizabeth Warren digs herself even deeper hole in 'Native American' ancestry row
Think your friends would be interested? Share this story!
You can share this story on social media: