Five cops wounded, two suspects killed in Texas shootout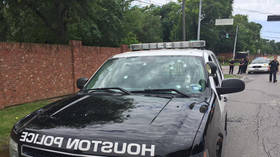 Four police officers have been shot and a fifth injured in a residential neighborhood in Houston, Texas after a shootout broke out during the serving of a narcotics warrant. Two suspects were killed.
Two officers were shot in the neck and are in critical but stable condition, while two more are under observation at Memorial Hermann Medical Center, Houston Police Chief Art Acevedo told the media on Monday evening, hours after the gun battle. One officer has already been discharged.
The police were on the scene at the Pecan Park address serving a search warrant related to reports that black tar heroin was being sold there, when they came under fire from the suspects. In a press conference on Monday evening, Chief Acevedo said that the investigation was ongoing.
You can share this story on social media: