Nancy Pelosi fights 'Trump Shutdown' with #Resistance luxury vacation in Hawaii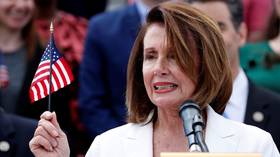 House Democratic leader Nancy Pelosi is so outraged about the shutdown that she is now defiantly relaxing at a sun-soaked Hawaiian resort. As for Trump, he decided to nix his holidays to protest the Democrats' stonewalling.
With Washington paralyzed due to a partial government shutdown sparked by budget squabbles, the House Democratic leader is leading the #Resistance against Donald Trump and his border wall… by vacationing at a fancy resort in Hawaii. According to reports, Pelosi has been spotted at Hawaii's Fairmont Orchid resort, where rooms prices start from $899 to $4,899 for the presidential suite.
Also on rt.com
Trump to stay in Washington as government shutdown creeps over Christmas
While Pelosi sips on festive cocktails served in coconut-cups, her staff are issuing press statements about how the Democrats will swiftly end the Trump Shutdown.
"With the House Majority, Democrats will act swiftly to end the Trump Shutdown, and will fight for a strategic, robust national security policy, including strong and smart border security, and strong support for our servicemembers and veterans," Drew Hammill, Pelosi's deputy chief of staff, said Friday.
Pelosi's hard-working staff are apparently forbidden from speaking about her Hawaii getaway, however.
Her trip to paradise elicited strong reactions among conservatives on Twitter, who accused the Democrat of not taking her job seriously.
"Pelosi spends government shutdown in Hawaii. Media silent. Trump spends government shutdown visiting the troops in Iraq. Media explodes," conservative columnist and commentator Todd Starnes wrote.
Like this story? Share it with a friend!
You can share this story on social media: