Blackmailed to lie? Roger Stone associate sues Mueller, intel agencies for $350mn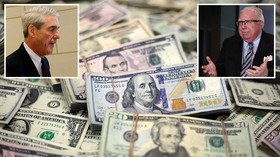 Conspiracy theory buff Jerome Corsi has sued Robert Mueller and a handful of federal agencies for allegedly attempting to blackmail him into lying about being a middle man between Wikileaks and the Trump campaign.
Corsi, the former Washington bureau chief of Alex Jones' controversial site, InfoWars, filed a lawsuit on Sunday which claims that special counsel Robert Mueller threatened him with prison unless he agreed to falsely confess to being a liaison between WikiLeaks founder Julian Assange and Republican political strategist Roger Stone, who was an adviser to Trump's presidential campaign.
The suit, which seeks $100 million in actual damages and $250 million in punitive damages, also accuses the FBI, CIA and NSA of having placed Corsi under illegal surveillance "at the direction of Mueller."
The illegal surveillance and blackmail operation, the suit alleges, aimed to bring about a "legal coup d'etat" which would challenge Trump's legitimate electoral victory.
Corsi became a person of interest in Mueller's probe into alleged collusion between the Trump campaign and the Kremlin after it emerged that he sent an email alerting Stone that Wikileaks planned to release emails stolen from John Podesta – two months before the secrets-leaking site did so.
In November reports emerged that Corsi was negotiating a plea deal with Mueller, but a deal appears to have never been reached. Last week, Corsi filed a formal complaint with the Justice Department alleging prosecutorial misconduct by Mueller and his team.
President Trump has repeatedly called the Mueller probe a "witch hunt" instigated by Democrats.
Think your friends would be interested? Share this story!
You can share this story on social media: