'Biggest attack on freedom of speech in decades' – WikiLeaks hits back against DNC lawsuit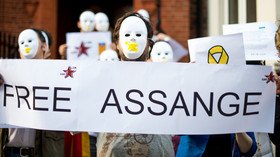 WikiLeaks is taking the fight to the Democratic National Committee, accusing the party of an unprecedented assault on the First Amendment in a legal filing that underlined both the absurdity and the overreach of its lawsuit.
Prosecuting WikiLeaks for publishing "truthful information of public interest" would have a disastrous effect on press freedom, opening the door to prosecution of any and all media organizations that dare to speak truth to power, the embattled publishers wrote.
"All that would remain would be a shell of the First Amendment practiced by a cowed and self-censoring media intimidated by fear of lawsuits designed to deprive the public of its right to information about powerful public figures and entities."
The DNC filed an ambitious lawsuit against WikiLeaks, the Trump campaign, and the entire country of Russia in April, alleging they all conspired to interfere with the 2016 presidential election. Claiming the publication of the leaked campaign emails was part of a calculated operation to "undermine public faith in the US democratic process, denigrate secretary Clinton, and harm her electability and potential presidency," the suit went on to claim the emails contained "trade secrets" whose publication harmed the DNC's "business" – meaning compensation is in order.
In a fundraising appeal to its supporters posted Friday, WikiLeaks pointed out that the DNC has access to unlimited funds from its wealthy donors and could easily bleed the organization dry through legal costs, no matter how ridiculous the suit might seem. Framing the legal fight as a "David vs. Goliath struggle," they reminded supporters that WikiLeaks has never lost a court case and never had to retract a story – and that the DNC has never claimed the emails were not genuine, instead choosing to deflect attention from their content by shooting the messenger.
Legal experts, including the Committee to Protect Journalists, have sharply criticized the DNC lawsuit for its overreach, warning that "by suing WikiLeaks, the DNC could endanger principles of press freedom." New York Times deputy general counsel David McCraw wrote earlier this year that "I think the law would have a very hard time drawing a distinction between The New York Times and WikiLeaks" if the latter were to be prosecuted, an opinion shared by James Goodale, who defended the Times after it published the Pentagon Papers.
Also on rt.com
WikiLeaks betting '$1mn & editor's head' against Guardian claims that Manafort met Assange
The filing comes two years into special counsel Robert Mueller's "Russiagate" investigation probing the same "collusion" the DNC's lawsuit alleges. Indeed, WikiLeaks' response actually cites July's indictment of 12 Russian nationals accused of hacking the DNC servers, pointing out that even a two-year investigation conducted with the unconstrained investigative powers of the US government could not find evidence that WikiLeaks was involved in the theft of the emails.
Last month, the existence of a secret US indictment of WikiLeaks founder Julian Assange was accidentally made public. Ecuador has ramped up efforts to kick Assange out of its London embassy, where he has lived as a political refugee for more than six years, presenting the UK's promise not to execute him as a "path to freedom."
You can share this story on social media: