Moscow controls Trump? Nonsense, it's a 'witch hunt,' says Putin's spokesman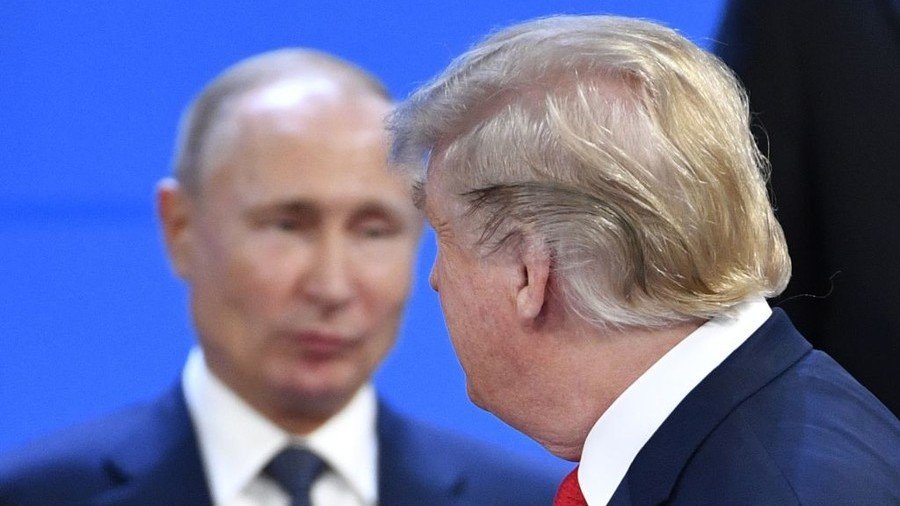 The claims that Russia has any influence on Donald Trump are absurd, Kremlin's press-secretary Dmitry Peskov said. He added that Moscow actually struggles to predict the actions of the US administration, which complicates ties.
Russiagate is "really a witch hunt" and those witches "don't exist," President Vladimir Putin's spokesman said as he met with MGIMO University students in Moscow.
"Of course, it's nonsense that Russia has any influence on Trump,"Peskov said, expanding on the Russian collusion accusations against the US leader.
On the contrary, Moscow has some real problems in forecasting the Trump administration's erratic moves, Peskov admitted.
"One can say that certain unpredictability in the actions of the current [US] administration is obvious and it seriously complicates relations" between Moscow and Washington, he complained.
The latest example of such behavior was the US side's sudden decision to cancel the much-anticipated meeting between Trump and Vladimir Putin, which had been scheduled to take place at the G20 summit in Argentina.
According to Peskov, Russia is interested in building ties with the US on the basis of "reciprocity," but very often it's not what the Americans want.
"When Russia began… promoting the idea of a multipolar world, an increasing number of people didn't like that," he told the students, adding that it's the reason of the ongoing "clash of paradigms" on the international arena.
Speaking on the latest Russiagate scandal focusing on lawyer Michael Cohen, Peskov said that the Kremlin did receive a letter from Cohen on the possible construction of the Trump Tower in Moscow, but responded that it "doesn't build houses" and suggested he should forge ties at economic forums instead. Any communications with the lawyer ceased after that exchange, he said.
Also on rt.com
Kremlin admits Cohen emailed them about Trump Tower project! …so what's the big news again?
Last week, Cohen pleaded guilty to making false statements to Congress, related to the shelved 2016 Russian project by then-US presidential candidate Trump.
READ MORE: Trump says Michael Cohen should serve a 'full and complete' sentence for 'terrible' crimes
Like this story? Share it with a friend!
You can share this story on social media: