'Zero tolerance!': Dating site for Trump fans warns it will sue any liberals who try to join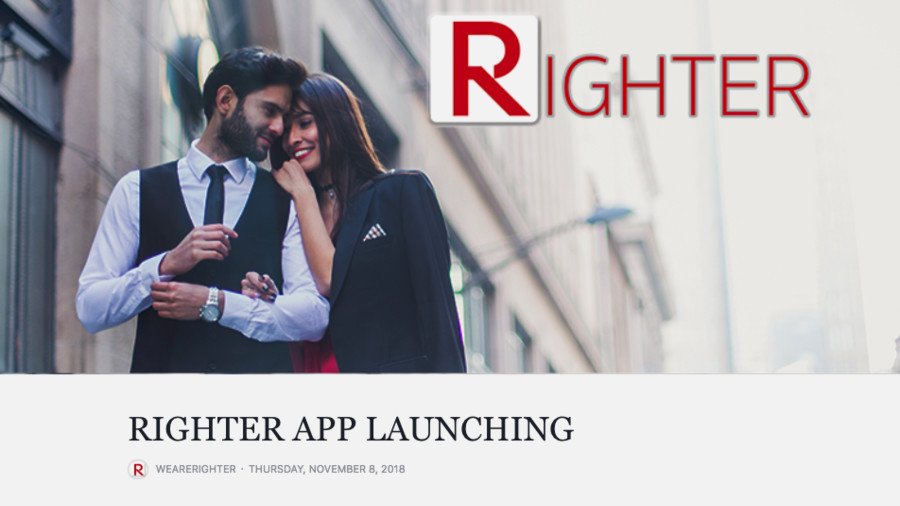 Liberals tempted to join a new right-wing dating site should think twice, because the company is employing a zero-tolerance policy for impostors who try to infiltrate the leftist-free zone.
Christy Edwards Lawton, the woman who created the Righter dating app for supporters of US President Donald Trump, said the company is more than willing to sue any liberal who tries to join the site after it launches later this month.
In an interview with the Daily Beast, Lawton, a former banker and die-hard Trump fan, warned liberals that she has a "very nice legal team" that will be handling non-Trump-supporting impostors on the app. "This is zero tolerance," she said.
Righter, the best dating app ever for #MAGA singles, is about to launch. Finally a dating site for us, by us, about us. Why swipe left when you can swipe #Righter!

— Righter (@wearerighter) December 4, 2018
Lawton is less clear about how the site might be able to determine a user's political leanings, admitting that part might be difficult. If liberals are found to be lurking on the platform, however, Lawton will have no problem suing. "Bring it on," she said. "This is ridiculous. They're sitting here suing our president."
In the Trump era, Republicans have complained of being unable to get dates in more Democrat-friendly cities like New York and Washington DC because of the highly polarized political climate in the country.
Lawton said she created Righter to cater to those people, specifically conservative women whose political beliefs seem to have precluded them from being successful on the dating scene.
Righter is also unique in that it will allow users to report each other for committing dating faux pas. For example, women will be able to report men who don't pay for the first date.
Women who present themselves differently in their pictures to how they look in reality also risk being booted off the site. "Females make themselves look different, younger, thinner, better. That's not going to happen on our app," Lawton said.
Righter also plans to give premium account benefits to military service members, promoting the move by posting an image of military members erecting concertina wire along the southern border.
The app is not the first one aimed at making the dating lives of conservatives easier. A site called Donald Daters launched in October, too, but unlike Righter, does not restrict its user database to supporters of Trump and promotes "free thinking."
The politically polarized climate has also spawned a dating site for those who oppose Trump. The NeverTrump.dating site launched in March hoping to help people "skip the awkward political conversations" and reveal their hatred of Trump right from the get-go.
Think your friends would be interested? Share this story!
You can share this story on social media: