Why is Rosenstein in jail on Trump's meme? He 'shouldn't have picked special counsel'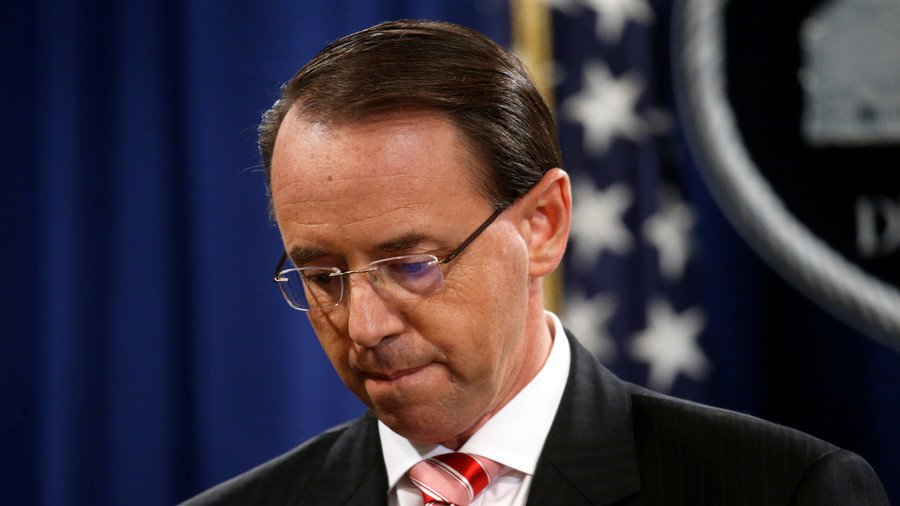 US President Donald Trump has hinted that Deputy Attorney General Rod Rosenstein should be jailed as he "never should have picked a special counsel." Trump was answering a question about the jailed official's meme he retweeted.
The meme, posted by Trump on Wednesday, shows his fiercest foes behind bars, including Hillary Clinton, Barack Obama, and former FBI director James Comey. Rosenstein is also there, despite having been handpicked by Trump in 2017.
"Now that Russia collusion is a proven lie, when do the trials for treason begin?" the meme asks.
When asked by The New York Post as to why Rosenstein should be locked away, Trump had a straightforward answer: "He should have never picked a special counsel."
Rosenstein appointed Robert Mueller to lead the Russia investigation after then-Attorney General Jeff Sessions recused himself from the probe.
Trump has long referred to the probe as a "witch hunt," and questioned in March why his team has "13 hardened Democrats, some big Crooked Hillary supporters, and Zero Republicans..."
The president declined to answer whether he plans on sacking Rosenstein, who offered his resignation in September after it was reported that he may have sought to remove Trump from office. Trump did, however, stand by his firing of Comey. "Thank God I fired Comey," he said.
Like this story? Share it with a friend!
You can share this story on social media: