'Obsessed': Ocasio-Cortez slams FOX News in Spanish for discussing her shoes in prime time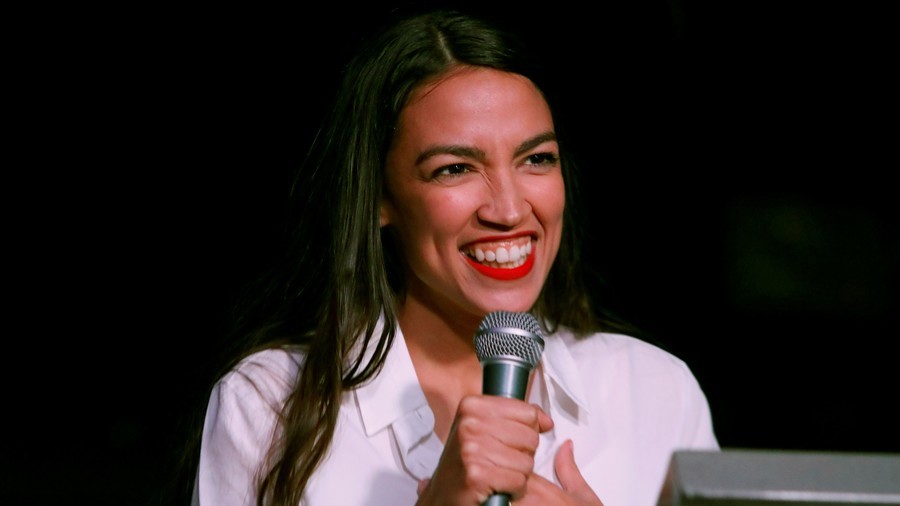 Congresswoman-elect Alexandria Ocasio-Cortez has blasted Fox news anchors as obsessed for discussing, at length, her shoes, rather than political views. Netizens are wondering if they would get her Spanish-language musical reply.
FOX staged a live four-person panel on Saturday to talk about the beaten up pair of shoes, which became a part of an exhibit of clothes empowering women after Ocasio-Cortez wore them during her sensational campaign for Congress.
Unexpectedly, the hosts had a lot of positive things to say about the New York Democrat this time around. While they couldn't share any of her political ideas, they all agreed that the footwear fully deserved to be in a museum due to the hard work she put in. Ocasio-Cortez's socialist views were also grilled, but briefly and only in the final seconds of the segment.
When users on Twitter, informed her of the content of the FOX broadcast, the Representative-elect replied with a line from a song by a Spanish-language US band, Aventura, which translates as "No, it's not love, what you feel is called obsession."
For those not fluent in Spanish, the former bartender and the youngest woman in history to be elected to Congress advised "Obsessed" by Mariah Carey instead.
One of the commentators joked that FOX would now require the services of an interpreter to be able to understand and responded to Ocasio-Cortez's jab.
The 29-year-old politician, who delivered a shock upset to incumbent Democrat Rep. Joseph Crowley in the primaries in June, responded that the channel "has made it clear that they are far superior to [and] more intelligent than me, who they've called a 'little, simple person.'"
Earlier in November, FOX already ripped into Ocasio-Cortez after she claimed she would have to wait for her Congress salary to kick in so that she could afford a place to stay in Washington.
The hosts said that it was a "brilliant political line" from the future congresswoman, who was only pretending to be a "little, simple person." They also pointed out that the "multi thousand-dollar outfits" she was seen wearing in public could've well paid that rent.
Ocasio-Cortez's interview in September was accompanied by photos of her wearing a posh suite and Manolo Blahnik shoes, which together cost around $3,500, according to the media.
The young politician retaliated by saying that it was "very revealing to see how gleefully Fox News hosts crack jokes about working-class people."
"It is bizarre to see 1%-salaried anchors laugh at the US housing crisis," she added.
If you like this story, share it with a friend!
You can share this story on social media: