Trump takes credit for Thanksgiving traffic jams because his Saudi friendship makes gas so cheap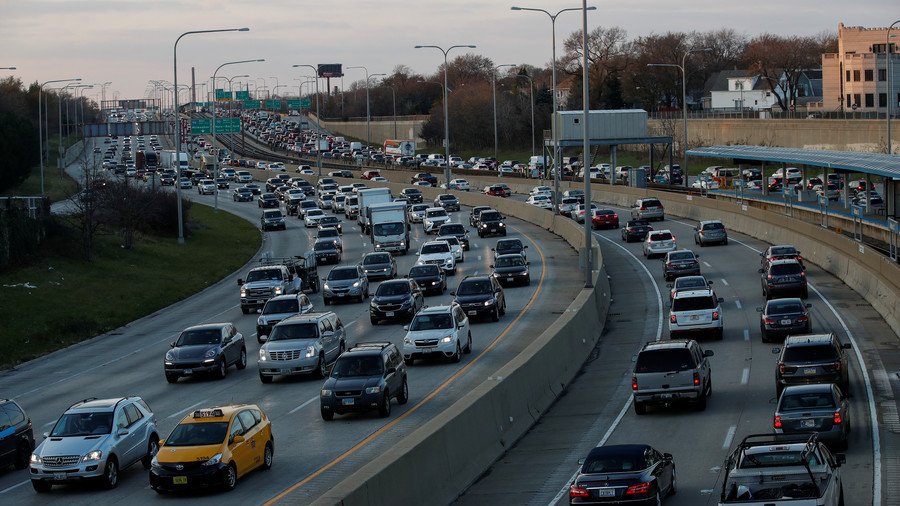 President Donald Trump sarcastically apologized to the country for causing record Thanksgiving traffic jams, slamming the "Fake News media" for a story they didn't actually write, while continuing to dodge the Khashoggi question.
Having credited himself and his Saudi pals with lowering gas prices earlier this week, the president seems to have extended his sphere of influence to include all actions performed with gasoline, including driving.
While a story blaming Trump for Thanksgiving traffic jams doesn't sound too far-fetched for the likes of CNN, most of the mainstream media have passed up on the opportunity this time. Some stories do actually "blame" lower gas prices for the decade-plus record number of holiday travelers – but none mention the president at all.
Not that the American people wouldn't like an apology for something…
Trump seems determined to avoid the realization that slower holiday travel is not what people are upset with him about – indeed, social media users spent Wednesday afternoon debunking his idea of "low gas prices."
Instead, Americans are upset over his unwavering embrace of Saudi Arabia, whose crown prince, Mohammed bin Salman, is suspected of ordering the assassination of journalist Jamal Khashoggi, who was killed in the Saudi Consulate in Istanbul, after which his body was hacked to pieces and disposed of.
Rather than condemn bin Salman, as even the CIA (not exactly known for their concern for human rights) has done, Trump has adopted a "wait and see" approach. That's heavy on the "wait," and hold the "see" altogether, as he told media he would not listen to the audio recording of Khashoggi's murder, calling it a "suffering tape."
This is, of course, the same Trump who said he wants to bring back waterboarding "and a hell of a lot worse."
Democrats and Republicans on the Senate Foreign Relations Committee even put aside their differences to ask Trump to launch a human rights probe into bin Salman. The president, unmoved by the rare display of across-the-aisle cooperation, could only venture the most lukewarm condemnation of the prince, stating that while "it could very well be that the Crown Prince had knowledge of this tragic event," the US would remain a "steadfast partner" of Saudi Arabia and keep raking in that sweet, sweet Saudi cash – $450 billion can buy a lot of moral flexibility!
Khashoggi's death seems to have done what 85,000 dead Yemeni children, a famine threatening millions of lives, and decades of brutal human rights violations could not, uniting American politicians against the kingdom's leaders.
Saudi Arabia has historically been one of America's closest allies thanks to its control over global oil supply and pricing as well as its willingness to purchase billions of dollars' worth of American weapons.
If you like this story, share it with a friend!
You can share this story on social media: