Make French wine great again: Trump escalates anti-Macron tweet tirade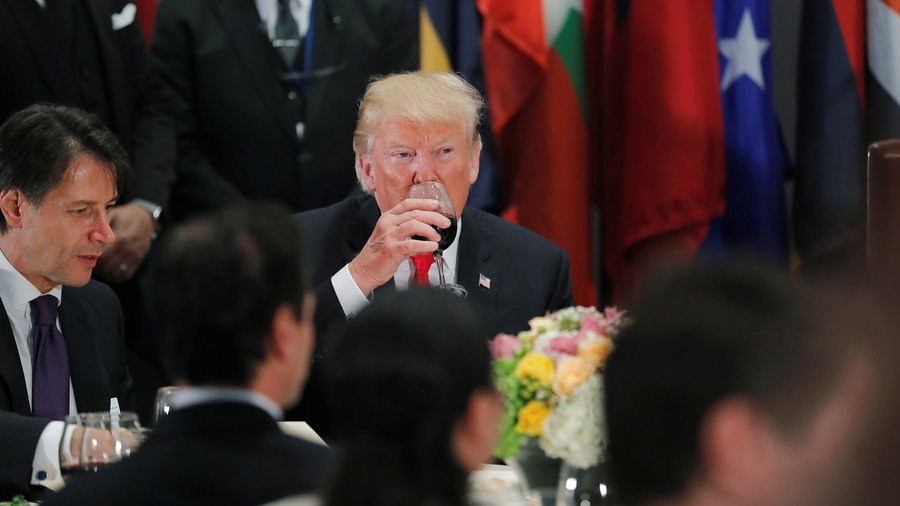 Fresh from criticizing French President Emmanuel Macron's call for an EU army, President Trump attacked his European counterpart's approval ratings, disdain for nationalism...and wine policy.
Tackling another one of his favorite subjects – trade, Trump claimed that while France makes "excellent wine," it also charges high tariffs for US winemakers brave or foolish enough to try breaking into the French market. "Not fair," he complained, "must change!"
Trump then segued into an attack on Macron's popularity at home. While Trump's own approval rating has swung between 37 and 51 percent in his almost two years in office, Macron's has plummeted since he was elected in May 2017, and now sits around 26 percent.
France's lagging economic performance and ten percent unemployment rate have surely contributed to Macron's abysmal polling. So too have a cabinet reshuffle in October and series of scandals this summer – like his construction of a new swimming pool at the presidential retreat of Bregançon while publicly lambasting welfare programs, and his former bodyguard's caught-on-camera beating of May Day protesters.
Trump, however, blamed some of Macron's unpopularity on his distaste for nationalism. At an Armistice Day commemoration in Paris at the weekend, Macron delivered a passionate speech tearing down Trump's 'America First' brand of nationalism and comparing it to the ideologies that dragged Europe into conflict in the 20th Century.
"Patriotism is the exact opposite of nationalism," Macron pontificated on Sunday. "By saying our interests first, who cares about the others, we erase what a nation holds dearest, what gives it life, what makes it great and what is essential: its moral values."
Trump, who recently described himself at a campaign-style rally as a proud nationalist, was not impressed.
"By the way, there is no country more Nationalist than France, very proud people-and rightfully so!," he tweeted on Tuesday, signing off with "MAKE FRANCE GREAT AGAIN!"
If Macron's approval ratings continue their downward spiral, France might well have a nationalist leader next time the French go to the polls. While Macron beat Marine Le Pen with 66 percent of the vote in 2017, Le Pen's Rassemblement National party pulled ahead of Macron's Republique En Marche in a recent opinion poll ahead of upcoming European Parliament elections.
Macron's office refused to make any comment in response to Trump's tweet salvo, but by all indications, the once-remarkable 'bromance' between the two leaders is over. Until recently, Trump had lavished Macron with praise and described their relationship as "perfect." Macron had been tactful in his disagreements with Trump, but always talked up the pair's clear communication and common ground.
Lavish state visits, hugs, and air kisses have given way to tense press conferences, quick handshakes and drab statements of mutual interest and cooperation.
Amid all the sour grapes, one member of Trump's family might be pleased with the president's decision to focus on 'unfair' wine tarifs: his winery-running son Eric.
Purchased by Donald Trump in 2011 and run by Eric ever since, Trump Winery in Virginia manufactures 36,000 cases of wine per year. If his father were to smack tariffs on French wine, Eric Trump might find it a little easier to shift his product.
Like this story? Share it with a friend!
You can share this story on social media: