The 'Trumpy Bear' is a real product for Trump fans — and it's 'made in China'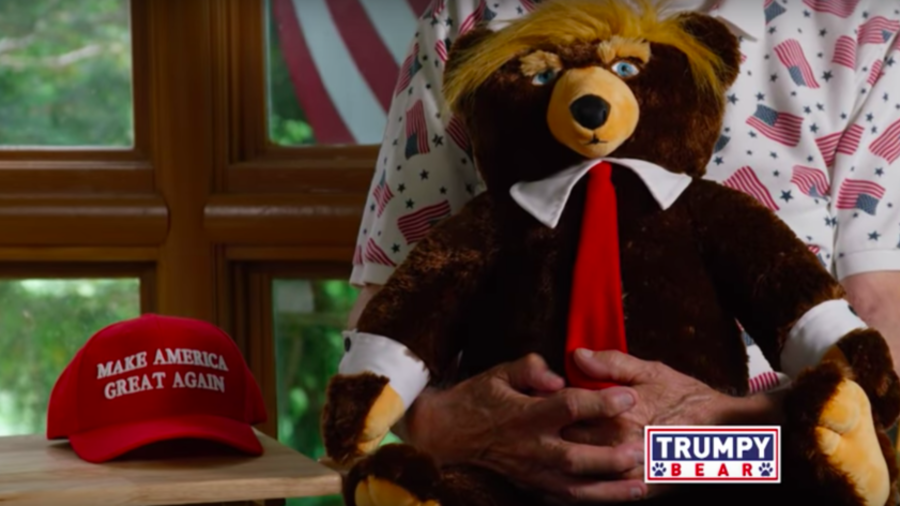 A Texas-based marketing company is selling a Donald Trump-styled teddy bear wearing a yellow toupee and with a flag-themed blanket stuffed inside a pouch on its back — and there's even a commercial to go with it.
The 'Trumpy Bear' is sold by Exceptional Products, a Dallas firm apparently keen to capitalize on the love many conservative Americans feel for their president.
An ad for the Trumpy Bear was first posted to YouTube in July 2017, but didn't gain widespread attention until now. In the bizarre commercial, proud Trumpy Bear owners, including military veterans, explain why they love the stuffed toy.
"I'm a former marine and I'm proud to have Trumpy Bear ride by my side," says one Trumpy Bear owner, while another fan sitting in a golf cart claims that Trumpy Bear "makes my golf game great again."
"God bless America and God bless Trumpy Bear," says another woman.
Earlier this year after some skepticism around whether the Trumpy Bear was authentic or not, fact-checking website Snopes investigated and confirmed that the bear is "a real product available for purchase."
The product gained more attention on Twitter this week after Vox journalist Aaron Rupar posted the commercial after seeing it running on Fox News.
Ironically, however, the bear for Trump supporters actually appears to be made in China — something which Trump, who has promised to bring manufacturing jobs back to the US, might not be too happy about.
While Exceptional Products owns the Trumpy Bear trademark, the bear was actually the brainchild of a V.L. Lange and a company called Reel Vision, according to Snopes, which obtained a copy of the 'vision statement' for the product written by Lange.
The Trumpy Bear "should be viewed as the symbol that anyone can run for president of this great country of ours" and is absolutely "not a joke."
"I want it to be perfectly clear that the men who served in our military spoke from their hearts in the Trumpy Bear commercial," the statement reads.
The 22-inch tall bear comes with a certificate of authenticity, just in case anyone was worried about knock-off Trumpy Bears.
Think your friends would be interested? Share this story!
You can share this story on social media: