Ex-ambassador McFaul switches to Russian to celebrate midterm victory over…Putin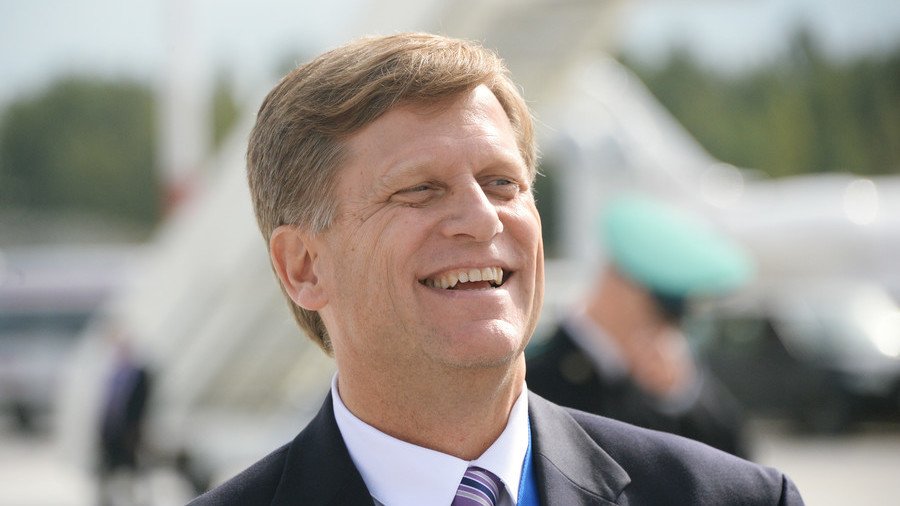 As Democrats basked in the glory of their takeover of the House of Representatives from Republicans last night, former US Ambassador to Russia Michael McFaul celebrated in the only way he knows how: making it all about Russia.
An overjoyed McFaul, who served for two years as Barack Obama's ambassador to Moscow, took to Twitter to congratulate his party on successfully taking control of the lower chamber of congress — but in an odd move, decided to write the tweet in Russian and frame the victory as a defeat of Russian President Vladimir Putin.
READ MORE: Michael McFaul, what have YOU done to help improve US-Russia relations?
"Victory! Regards to VVP," McFaul wrote — the initials a reference to the Russian leader whose full name is Vladimir Vladimirovich Putin. Another post simply said "Yes!" in Russian in response to the Democrats' expected victory.
This was rather odd, given that the so-called 'Russiagate' scandal (remember that?) was virtually absent from the midterm election campaigning. Perhaps because the Democrats finally realized people were sick of hearing about President Donald Trump's alleged collusion with Russia without evidence to back it up.
McFaul hasn't forgotten about it though. Following his tenure as Russia ambassador, McFaul cashed in on his Russia expertise, writing a book on US-Russia relations and becoming a prolific Twitter and media commentator at a time when demand for Russiagate conspiracy mongering was at an all-time high in the aftermath of Trump's election victory.
McFaul's laser focus on Russia has now apparently led him to believe that Putin is genuinely saddened by the results of US congressional elections. Of course, this is what you might believe too, if like McFaul, you were also convinced that Putin is secretly in control of Trump — a narrative which makes little sense when you consider that Trump has in many ways actually taken a tougher stance on Russia than his predecessor; imposing further sanctions, trying to push Russia out of the European energy market and threatening to withdraw from a longstanding nuclear arms treaty with Moscow.
McFaul was not the only one who declared triumph over the Russian president last night, however. Bill Browder, the US-born British investor and former Putin fan who rebranded himself as an anti-Putin human rights crusader (after being accused of financial crimes in Russia), announced that "Putin loses proxy war in Orange County" after his "minion" Dana Rohrabacher failed in his reelection bid. Rohrabacher had previously taken issue with aggressive US policy toward Russia and thus found himself branded a Kremlin stooge.
Think your friends would be interested? Share this story!
You can share this story on social media: