Helpinksi? White House commemorative coins from Trump-Putin Helsinki summit get a few things wrong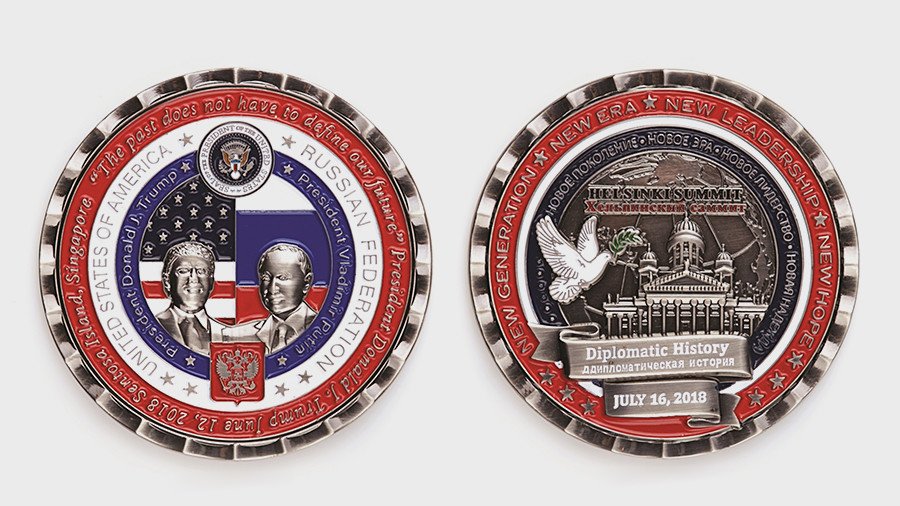 The White House clearly did not employ the services of a copy editor before releasing commemorative coins from Donald Trump's summit with Russian President Vladimir Putin in Helsinki, which contain no less than three typos.
NPR business reporter Alina Selyukh, a Russian native, tweeted pictures of the grammatically botched coins, pointing out that the word 'Helsinki' itself was spelled incorrectly in Russian and actually read 'Helpinski'.
Help? Maybe it's some kind of coded message from the Trump administration? Surely there is a conspiracy theorist who could look into this immediately.
There seems to actually be three mistakes, including incorrect grammar on the phrase "new era" and another very avoidable error on the word 'Diplomatic' which actually read "DDiplomatic."
Never mind a Russian-speaking copy editor, even a quick run through Google Translate would probably have been enough to fix that one.
Twitter users were quick to make fun of the mistakes, noting that the beautiful city of 'Helpinksi' is a lovely place to visit at this time of year, particularly if you're on a 'ddiplomatic' mission.
But it wasn't just accurate Russian spelling and grammar that eluded the coin designers. Selyukh also noticed that the inscribed Trump quote — "the past does not have to define our future" — actually comes from his meeting with North Korean leader Kim Jong-un a month earlier.
READ MORE: Writer-in-chief? Internet 'pours over' Trump Twitter typo
The typo-laden coins, which are part of the White House's 'Historic Moments' series, can be yours for the reasonable price of $100. Also available for pre-order is 'A Study In Genius — The Presidency of Donald J. Trump' — if you have $175 to spare.
You can share this story on social media: