64yo teacher beats up student in class 'over n-word' – then gets $50,000 from sympathizers (VIDEO)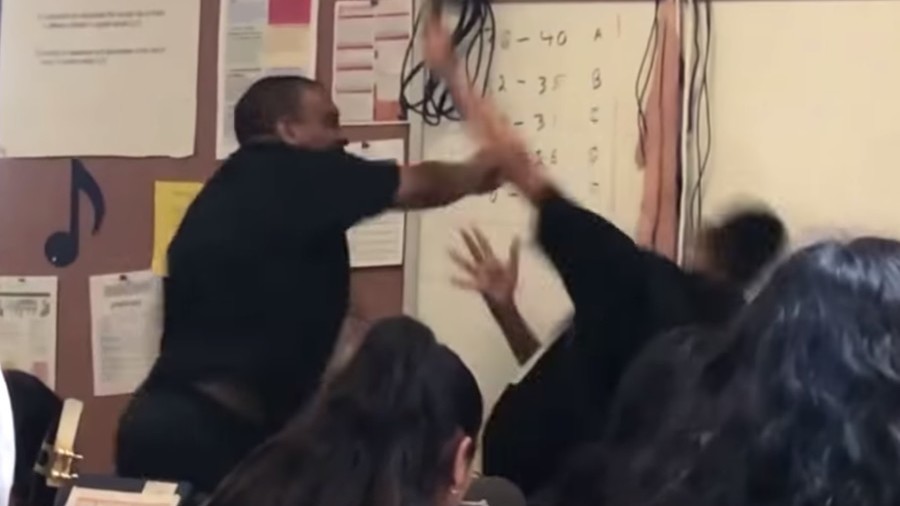 A 64-year old California music teacher has been charged with child abuse after pummeling his 14-year-old student in full view of stunned classmates, who filmed the incident. But multiple students have come to his defense.
Educator Marston Riley has posted $50,000 bail, to secure release from Los Angeles County Jail, while his victim has been discharged from hospital with "moderate" injuries.
A video of the incident, posted on YouTube, shows the argument at Maywood Academy High School breaking out after Riley chastises the freshman student for failing to wear the proper uniform to class, and demands he leave.
Instead of complying, the student challenges Riley. Insisting that the teacher look at him, the student, who, like Riley, appears to be a person of color, calls him "my n***a" and "b***h," as he accuses him of being a liar, and humiliates him in front of tut-tutting students holding their instruments.
Riley, who initially appears exasperated rather than confrontational, deliberately walks away from the disobedient student, and begins calling for help on his cell phone. But after another tirade, preceded by a warning, he loses his cool and launches the first punch.
After tentative contact, the boy edges away from Riley. As the teenager tries to strike back, he loses his footing and falls to his knees. Riley continues to punch him in the head as the teen tries to cover himself.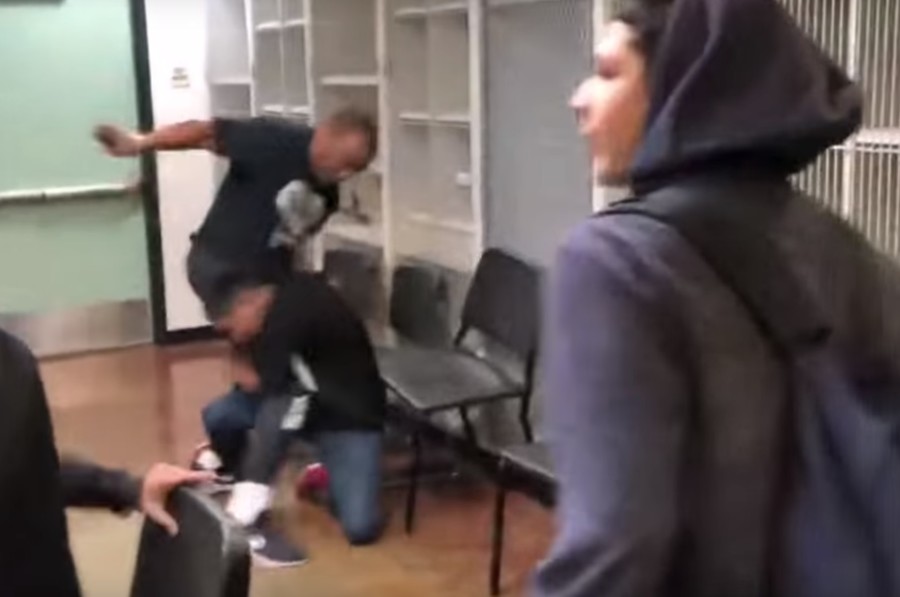 Riley is briefly separated from his target by a staff assistant, allowing the boy to get to his feet, but the teacher pursues him across the classroom, before re-engaging, to ear-piercing screams from the onlookers. Finally, after Riley slips, the student is able to make his escape, while the teacher is restrained.
"I was scared for the kid, and partly for the teacher too," a student witness told the local CBS affiliate.
Despite the shocking nature of the altercation, all students interviewed by the media have come to Riley's defense.
"I had this teacher before and I had no problem with him. He was a really nice teacher, I always respected him. He always had a really good relationship with every student," one told Fox40.
"The kid really messed up doing that – calling him the n-word," said Fabiola Martinez, another student, who reached out to CBS to speak up for Riley.
Some have even suggested that the whole incident was a deliberate provocation designed to get a rise out of Riley, noting that the footage starts far in advance of any punches being thrown.
"Everything was planned out," the student told Fox40. "There were students there who were already taking out their phones to record the incident. I don't think it's completely fair that they're just putting the blame all on Riley, when I personally know that he's a good guy."
A legal defense fund has been set up for Riley on GoFundMe, mentioning that he has been on the receiving end of physical attacks from students. Over 2,100 people have contributed more than $50,000 in less than two days.
But regardless of the intricacies of the incident, no one has come out of it in a good light. LA Unified School District was forced to issue a statement as complaints poured in from aghast parents.
"We are extremely disturbed by the reports of the events that occurred at Maywood Academy High School. We take this matter very seriously and do not condone violence or intolerance of any kind," the board said.
Riley faces arraignment on November 30.
You can share this story on social media: