Trump sparks outrage with 'racist' immigration ad ahead of midterm elections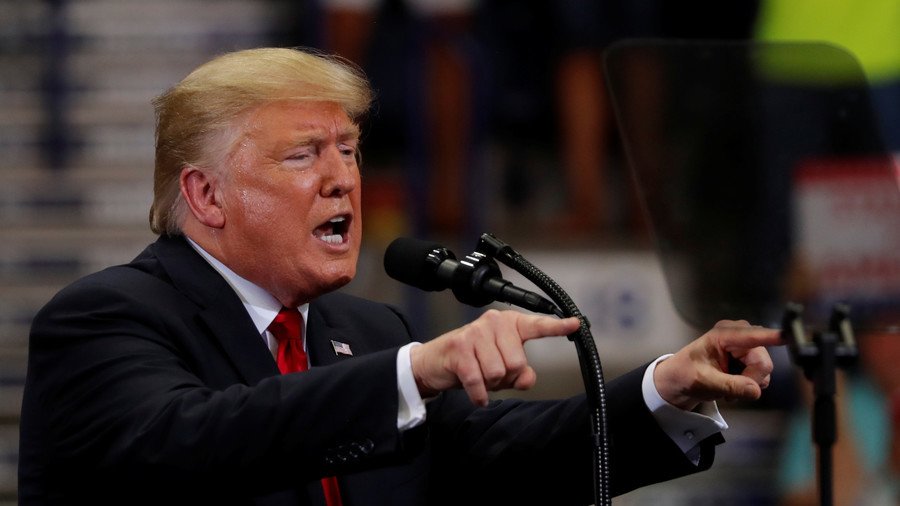 US President Donald Trump has sparked outrage after tweeting an official Republican Party ad which condemns Democrats' immigration policies as a threat to the country. Critics slammed the video as racist.
The ad includes footage of Luis Bracamontes, a Mexican man who entered the US illegally and killed two police officers in Sacramento in 2014, despite having been deported twice before. The video shows Bracamontes laughing about his crime and promising to "kill more cops soon."
The ad then turns to footage of the caravan of Central American migrants making their way towards the US border. Trump has vowed they will not be allowed to enter the US under any circumstances. "Who else would the Democrats allow in?" the ad asks, before promising that Trump and the Republicans are "making America safe again."
But critics and pundits have slammed Trump for what they say is an openly "racist" ad appealing to fear and comparing migrants to convicted murderers. One said the ad represented "almost full-blown fascism" while another suggested it was something that could have been tweeted "by a far-right, neo-Nazi group."
Many recalled the infamous 'Willie Horton' campaign ad from the 1988 presidential election between George H.W. Bush and Democrat Michael Dukakis. The ad, which was financed by supporters of Bush's campaign focused on Horton, a convicted murderer, who was released on a weekend furlough program (which had been supported by Dukakis) and committed assault and rape while he was out.
Some noted that while Bush tried to distance himself from the Horton ad, which was not directly financed by his campaign, Trump has given the Bracamontes ad his full endorsement.
There were some who supported Trump in sharing the ad, however. Fox News host Laura Ingraham tweeted that the clip of Bracamontes in court was "something every American should see". Reporter for the Daily Wire, Ryan Saavedra tweeted that Democrats would "look like fools" if they appeared to be defending criminals like Bracamontes by attacking Trump over the ad.
Just five days out from the midterm elections, Trump is unlikely to be deterred by new accusations of racism. Earlier this week, he promised to send up to 15,000 troops to the US's southern border to stop the flow of migrants and said he intends to alter the constitution to end birthright citizenship for children born to parents who have entered the country illegally, despite pushback from some in his own party.
You can share this story on social media: