Scheme or not? FBI investigate claim woman offered money to fake assault allegations against Mueller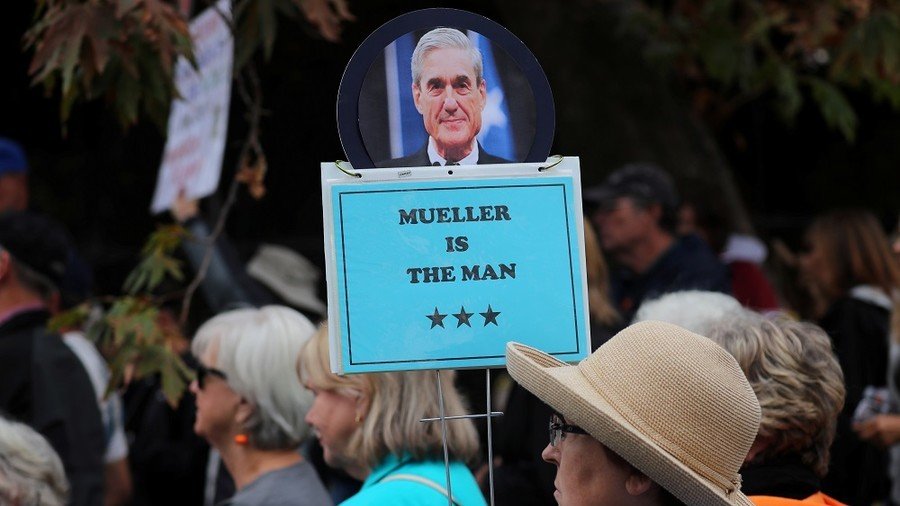 The FBI is looking into claims that women have been asked to make false accusations of sexual harassment against Special Counsel Robert Mueller in exchange for money — but all may not be as it seems.
The alleged scheme aimed at Mueller, who has been investigating unproven ties between Donald Trump's presidential campaign and Russia, came to the attention of his office after several journalists and news outlets, including RT, were contacted by a woman claiming that she had been approached by a man offering money if she would fabricate claims against him.
13 days ago I received this tip alleging an attempt to pay off women to make up accusations of sexual misconduct against Special Counsel Bob Mueller. Other reporters received the same email. Now the Special Counsel's office is telling us they've referred the matter to the FBI pic.twitter.com/oqh4Fnel5u

— Yashar Ali 🐘 (@yashar) October 30, 2018
2 weeks ago, I, along with other journalists were set an email from a woman who alleged that she was a former colleague of Mueller. She said that Jack Burkman, via an intermediary, offered her tens of thousands to make up sexual assault claims against Mueller.

— Scott Stedman (@ScottMStedman) October 30, 2018
Peter Carr, a spokesperson for Mueller, said the reports had been "immediately referred" to the FBI, who are now investigating. The unidentified woman told journalists that a man with a British accent, who supposedly worked for Republican commentator Jack Burkman, offered her $20,000 and to have her credit card debt paid off if she would come forward with the allegations.
The woman claimed she worked briefly with Mueller when she was a paralegal in 1974. She said that she was told the details could not be discussed on the phone but was asked to download the Signal app, which is "more secure." Using that app, the man reportedly asked her to "make accusations of sexual misconduct and workplace harassment" and even to "sign a sworn affidavit to that effect."
In her email, the woman wrote that the man who contacted her "knew exactly how much credit card debt I had, right down to the dollar" which she said "sort of freaked me out."
"I don't know what these people are looking for, but I'm not going to be part of some kind of Washington DC drama for any price," the email ended.
The plot thickened on Tuesday, when Burkman, the conservative activist and talk show host at the center of the alleged drama, announced he has indeed been in contact with a woman claiming to have been sexually assaulted by Mueller — and has promised to reveal her name on November 1 at noon.
"I applaud the courage and dignity and grace and strength of my client," Burkman wrote in the Twitter announcement.
Some sad news. On Thursday, November 1, at the RosslynHoliday Inn at noon, we will reveal the first of Special Counsel RobertMueller's sex assault victims. I applaud the courage and dignity andgrace and strength of my client. pic.twitter.com/wZVQeHD45r

— Jack Burkman (@Jack_Burkman) October 30, 2018
Burkman toldThe Atlantic he does not know the woman who contacted journalists about the alleged scheme against Mueller, and called his client a "very credible witness."
According to documents published by the conservative Gateway Pundit blog, the accuser says that Mueller "aggressively" raped her after buying her a drink at the St. Regis Hotel bar in New York in 2010.
But wait, there's more! Ed Krassenstein, a Democratic activist best known for trolling President Trump on Twitter, claimed that Burkman had told him Jacob Wohl - a controversial Trump-supporting Twitter personality - was behind Surefire Intelligence, the mysterious outfit that supposedly produced the accuser.
"To me, this was all a setup from somebody trying to discredit the media," Krassenstein told NBC News.
"I don't have any involvement in any investigations of any kind. I'm not quite that cool," Wohl told NBC when reached by direct message on Twitter. NBC reported that Surefire's official phone number redirects to voicemail at a number public records show belongs to Wohl's mother, however.
Given that Mueller is currently investigating Trump's alleged ties to Russia, it looks like the political battle lines will be drawn soon, with Republicans eager to believe the allegations, while Democrats will likely seek to dismiss them as an effort to destroy Mueller's Russia probe — despite the frequent calls to "believe all women" accusers.
Like this story? Share it with a friend!
You can share this story on social media: