US mail bomber reportedly compiled 100-name 'hit list'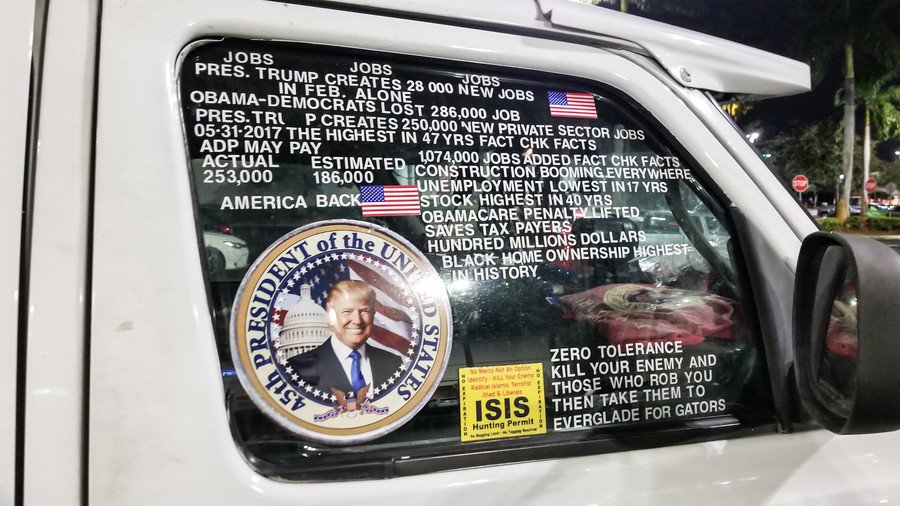 Cesar Sayoc, suspected of mailing at least 15 pipe bombs to prominent Democrats, was just getting started, according to law enforcement sources who say they found a "hit list" of over 100 names in his Trump-spangled van.
The list, which includes names and addresses, was found in the van where he is believed to have lived and constructed the devices. Sources familiar with the probe say Sayoc told FBI agents and other authorities that he did not mean to hurt the targets during a brief interview at their South Florida field office.
The fifteenth envelope – a third mailing destined for CNN headquarters in Atlanta after two earlier packages were sent to the station's New York offices – was intercepted Monday afternoon at a postal facility.
Sayoc briefly appeared in a Miami courtroom on Monday. He is expected to be moved to New York, where prosecutors will seek to hold him without bail as a flight risk. Sayoc's defense attorneys belittled the evidence in the FBI's possession, which amounts to a fingerprint and a "possible DNA association" between two of the devices and a genetic sample from an earlier case.
The alleged bomber has quite an extensive criminal history, including charges of theft, possession and sale of steroids, traffic violations, and bomb threats. The latter saw him placed on probation in 2002. He filed for bankruptcy in 2012 after losing his home to foreclosure in 2009. Media have made much of the fact that he's a registered Republican, though felons cannot vote in Florida.
Sayoc's direct-mail campaign was immediately seized upon as a political football by both Democrats and Republicans as the contentious midterm elections approach. Democrats blame President Trump, who has spoken out against all of the bomb recipients at various times; Republicans blame high-ranking Democrats like Hillary Clinton and Eric Holder, who have also used inflammatory rhetoric in the run-up to Election Day.
MORE: Image taken at earlier date shows white van covered in decals of Pres. Trump, targets over the likenesses of Hillary Clinton, former Pres. Obama, filmmaker Michael Moore; it's believed to be same van at scene of suspect's arrest in Plantation, Fla. https://t.co/gsq71KV0gBpic.twitter.com/ysuk205JtT

— CBS Evening News (@CBSEveningNews) October 26, 2018
Others point to the cartoonish appearance of the "bombs" and their failure to explode as indications they were meant as an "October surprise" to sway the election, rather than a genuine threat. While the bombs were treated as live devices, subsequent analysis revealed they were so poorly constructed they could not have gone off.
Sayoc was charged with five federal crimes and faces up to 48 years in prison if convicted. Among the recipients of his packages were George Soros, John Brennan, Maxine Waters, Cory Booker, Barack Obama, and Robert DeNiro.
Think your friends would be interested? Share this story!
You can share this story on social media: