Nothing to see here, move along! Classes proceed as usual after NC high school shooting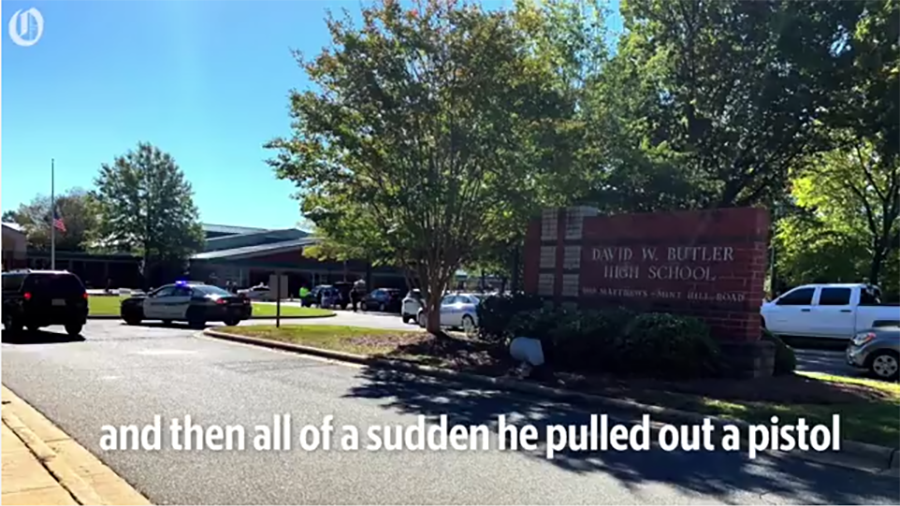 A shooting at a North Carolina high school has sparked outrage beyond the usual grief and confusion, as parents and students say authorities bungled the aftermath by sending kids back to class as if nothing happened.
A high school student shot a classmate at Butler High School in Matthews, NC this morning as classes began for the day. Staff reacted swiftly and instituted lockdown procedures, while officers had the suspect in custody within 15 minutes. However, parents were left panicked and confused as they tried to reunite with their children.
As frantic students texted and called their families, parents were told to meet their children at a nearby church. When they arrived to find their children absent, dozens of parents took matters into their own hands, marching over a highway overpass and crossing police barricades to assemble at the doors of the school.
Parents were finally given permission to retrieve their children at 9:30 am and crowded into the building. Attempting to impose some semblance of order, authorities lined the adults up to sign their sons and daughters out of class with makeshift permission slips – but for the rest, classes remained in session. Teachers were told to finish out the day, according to Tracy Russ, chief communications officer for the school district. Students and parents alike reacted with shock and disbelief on social media.
The conflict between the shooter and his victim began with a bullying incident, according to Charlotte-Mecklenburg Schools Superintendent Clayton Wilcox. Freshman Jatwan Cuffie surrendered to a school resource officer after admitting to a teacher he shot sophomore Bobby McKeithen. Both boys are 16. The argument began as a verbal altercation that turned physical, according to school officials. McKeithen died of his injuries in a nearby hospital.
The school district approved $9 million in security upgrades as part of a $1.5 billion budget proposed in February following the Parkland, FL school shooting. Those upgrades included hardened doors, perimeter fencing, reinforced glass, surveillance cameras, additional locks and locksmiths, but no metal detectors. Also included were nine salaried security posts, including five police officers.
Wilcox defended keeping the students in class, explaining that the school wanted to ensure students could be safely transported home. With the suspect in custody, however, it's unclear what dangers he felt were worth confining students to the site of the traumatic event they had just witnessed.
Classes were cancelled for Tuesday and Wednesday, and the school district announced counseling would be made available.
Think your friends would be interested? Share this story!
You can share this story on social media: