Bolton: US understands Russia's position better, has yet to finalize its position on START treaty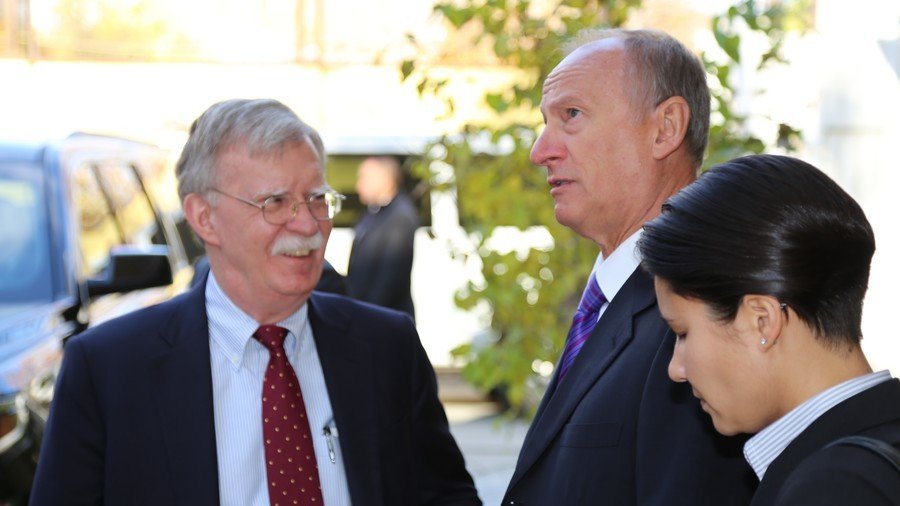 Following hours of talks behind closed doors in Moscow, US National Security Advisor John Bolton said that he now understands Russia's take on things much better, and added that more consultations on arms treaties are needed.
Bolton, the alleged mastermind behind the US pullout from the historic INF treaty, met with Secretary of Russian Security Council, Nikolay Patrushev on Monday. He arrived to Moscow shortly after the US President Donald Trump announced his desire to withdraw from the Intermediate-Range Nuclear Forces Treaty (INF).
The main issue with the INF treaty, Bolton said in an interview to the Ekho Moskvy radio station, is that the weaponry systems it concerns are no longer exclusively operated by the US and Russia. Other countries, including China and North Korea, are developing and testing such systems, therefore the issue cannot be solved only by the two countries.
Apart from that, he also cited the "concerns" of the US and its allies over alleged Russian violations of the treaty, without detailing the supposed violations. Moscow has repeatedly denied such accusations. But the US still believes that Russia wants to develop intermediate-range missiles, prohibited by the INF.
The two have also discussed another fundamental deal – the Strategic Arms Reduction Treaty (New START) – which would remain one of last obstacles before uncontrolled nuclear proliferation if the US pulls out of the INF. The treaty will expire in 2021, and Washington has not formulated its position on it yet, Bolton said.
If Trump goes ahead with pulling the US out of the INF, that will leave only one remaining pillar in the arms control architecture, the START Treaty limiting the deployment of all types of nuclear weapons.
The INF treaty prohibits development, production and deployment of all land-based ballistic and cruise missiles with ranges between 500 and 5,500 km. Over the years, Moscow and Washington have repeatedly accused each other of violating the deal. While the US has alleged that Russia has developed such weaponry, Moscow has pointed out that the US anti-missile systems deployed in Eastern Europe can actually be used to launch intermediate-range cruise missiles.
Subscribe to RT newsletter to get stories the mainstream media won't tell you.
You can share this story on social media: