Transgender activists slam US govt plan to define gender as 'male' and 'female' based on biology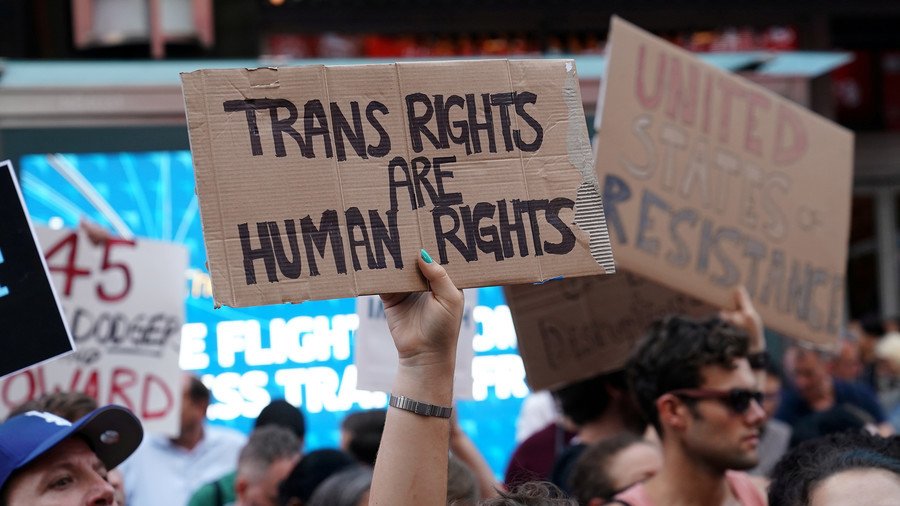 Transgender activists are up in arms over reports that the Trump administration is considering a policy which would require government agencies to define a person's sex based solely on biological considerations.
According to a New York Times report, the Department of Health and Human Services is planning to establish a legal definition of sex under Title IX, a federal civil rights law that bans gender discrimination.
While many transgender activists argue that a person's gender is largely their own choice, a department memo seen by the Times argues that a person's sex should be defined "on a biological basis that is clear, grounded in science, objective and administrable," with a person's genitals at birth defining their gender.
READ MORE: Gender X: Netherlands issues its first gender-neutral passport after govt loses court battle
"The sex listed on a person's birth certificate, as originally issued, shall constitute definitive proof of a person's sex unless rebutted by reliable genetic evidence," the memo reportedly reads.
The news was met with fury by transgender activists, and a protest was held in New York's Washington Square on Sunday night. The Transgender Law Center said that the proposal is an effort "to erase our very existence as trans people," and accused the Trump administration of planning "the destruction of our communities."
"Defining 'sex' in this narrow language tailored to the talking points of anti-equality extremists is part of a deliberate strategy to eliminate federal protections for LGBTQ people," read a statement from The Human Rights Campaign, a prominent LGBT rights group.
Activists and supporters rallied against the move on Twitter, under the hashtag #WontBeErased.
Some supported the plan, arguing that defining sex by biology isn't discrimination; just common sense.
While sex and gender have been considered binary for millennia, the idea of gender as a social construct has been popularized by university social sciences departments in recent years, and university 'bathroom battles' have found their way into the cultural mainstream. The American Psychiatric Association considered 'gender dysphoria' a mental disorder until 2013, as did the World Health Organization until 2018.
Some 1.4 million Americans officially recognize themselves as a gender other than the one they were born into, and the Obama administration recognized this cultural shift by repealing the military's ban on transgender troops and by requiring public schools to allow transgender students to use whatever bathroom they choose.
The Trump administration on the other hand has a more binary view of gender. In May, the Bureau of Prisons changed its policy to use 'biological sex' when assigning cells and bathrooms to inmates. The Department of Defense also announced earlier this year that it would ban most transgender people from serving in the military, except under exceptional circumstances. The ban was blocked by a federal court in Washington.
Like this story? Share it with a friend!
You can share this story on social media: