'Widespread catastrophic damage': Hurricane Michael ravages Florida Air Force base (PHOTOS)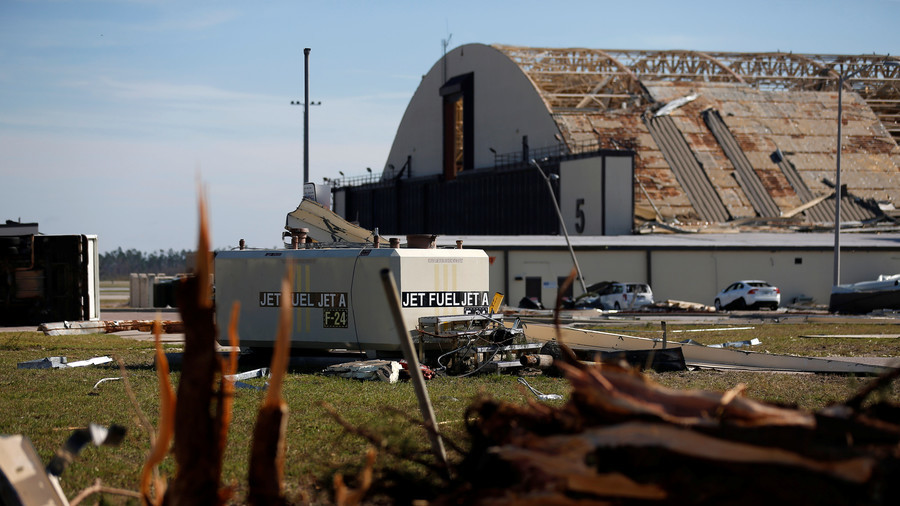 Hurricane Michael has wreaked havoc at Tyndall Air Force Base near Panama City, Florida, uprooting trees, tearing off roofs, and wiping out the flight line and marina. It's still unknown how long repairs will take.
The base, located just 19km (12 miles) east of Panama City, suffered a "direct hit" from the hurricane, which made its landfall on Florida's Panhandle on Wednesday, shredding nearby Mexico Beach and bringing devastation to Panama City.
Tyndall has not been spared the full force of the hurricane either. Aerial footage of the base shows snapped trees, dozens of trailers scattered across parking lots and severe damage to homes, with gaping holes where roof shingles used to be.
Wind gusts have ripped siding from aircraft hangars. "Widespread catastrophic damage" was caused to almost every structure, the base commandment said on Facebook.
"The flight line is devastated. Every building has severe damage. Many buildings are a complete loss. The hurricane completely destroyed the Tyndall marina. The structures and docks are gone."
The base "took a beating" from the hurricane and will need extensive clean-up and repairs, Colonel Brian S. Laidlaw said. The storm left the base without basic utilities, and fallen trees and power lines blocked the roads.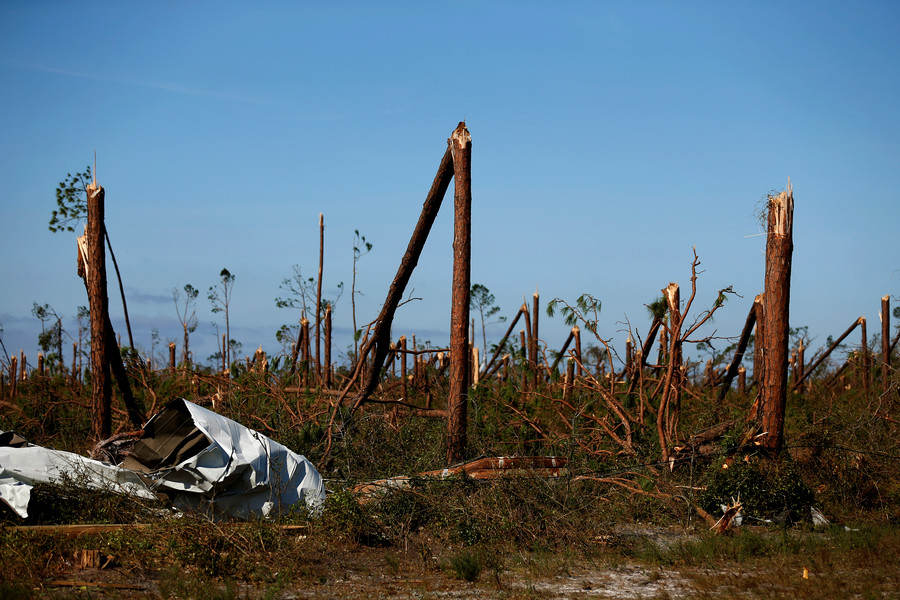 Several things stick out to me about the Tyndall AFB video. 1. Every tree was snapped. We'd typically see in EF-3+ TORs. 2. Sheer amount of metal debris/siding that blew around. 3. Trailers are NOT safe. 4. Airplanes blown around. These were bolted down! pic.twitter.com/HhUCjJEVL6

— Ricky Matthews (@wxrjm) October 11, 2018
No casualties or injuries have been reported at the base, which was empty at the time the storm smashed into Florida. The majority of the aircraft waited out the storm in Wright-Patterson Air Force Base in Ohio and Carswell Field in Texas.
It is unclear when servicemen and families that were driven from the base can return, the commandment admitted.
"I know that you are eager to return. I ask you to be patient and try to focus on taking care of your families and each other. We can rebuild our base, but we can't rebuild any of you," Laidlaw said.
At least six people have been killed as a result of Hurricane Michael, the third most powerful storm ever to hit the US mainland, officials said.
The hurricane, having made landfall as a category-4 storm, then weakened to Category 1 on Wednesday night, bringing torrential rains to Georgia and South and North Carolina.


You can share this story on social media: