Wasn't she supposed to serve US? Twitter unamused as IDF 'salutes' Haley for her support for Israel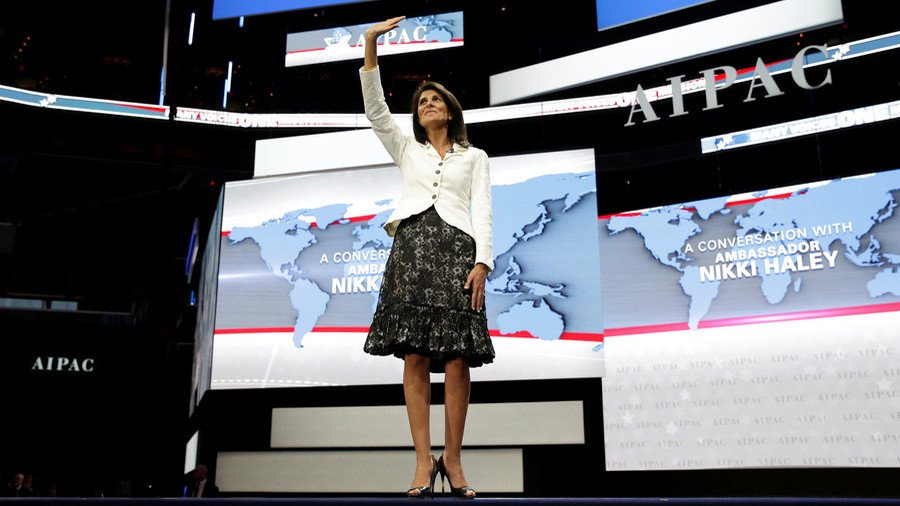 A tweet from the IDF thanking Nikki Haley for her "unwavering support" for Israel has sparked an avalanche of snarky comments, with many pointing out that Haley was supposed to be the US, not Israeli, envoy to the UN.
In a surprise announcement on Tuesday, Haley resigned her post as Washington's envoy to the United Nations. Haley's departure ignited a Twitter storm of speculation about why she chose to step down, and what she's planning next. Israel's military, however, used the announcement as an opportunity to thank the retiring US diplomat for her service to the Jewish state.
"Thank you @nikkihaley for your service in the @UN and unwavering support for Israel and the truth. The soldiers of the Israel Defense Forces salute you!" the IDF's official Twitter account wrote.
But the IDF's appreciative "salute" to Haley was immediately swarmed with angry and sarcastic replies, with Twitter users accusing the former US envoy of putting Israel's interests ahead of her own country's.
"'Unwavering support' aka, blind allegiance," one Twitter user noted bluntly.
"You love her for the reasons the rest of us despise her," another netizen shot back at the IDF. "She left the Human Rights Council, pulled the US out of Iran deal, slashed funds to UNRWA, moved embassy to Jerusalem, and was exaggerated in her support for the IDF when they abuse Palestinian human rights."
Twitter user "Alan" made a similar, although considerably more succinct, observation: "I thought she was meant to be serving... Never mind."
Haley has been a fierce defender of Israel, repeatedly using her seat on the UN Security Council to shield Tel Aviv from international criticism. During her tenure at the UN, the US envoy lashed out at the international community for allegedly "bullying" Tel Aviv, warning that the she "wasn't going to have it."
"We had the back of Israel, and if they were going to mess with Israel they had to mess with the US," she said.
Earlier, Israeli Prime Minister Benjamin Netanyahu praised Haley for leading an "uncompromising struggle" on behalf of the "justice of our country."
Prime Minister Benjamin Netanyahu:"I would like to thank Ambassador @nikkihaley, who led the uncompromising struggle against hypocrisy at the UN, and on behalf of the truth and justice of our country. Best of luck!" pic.twitter.com/Lr6IvkM5U9

— PM of Israel (@IsraeliPM) October 9, 2018
He was referring to Israel, not the United States. Just to be clear.


Like this story? Share it with a friend!
You can share this story on social media: