High school band director suspended after cops-at-gunpoint skit sparks outrage (VIDEO)
Published time: 8 Oct, 2018 18:08
Edited time: 9 Oct, 2018 07:48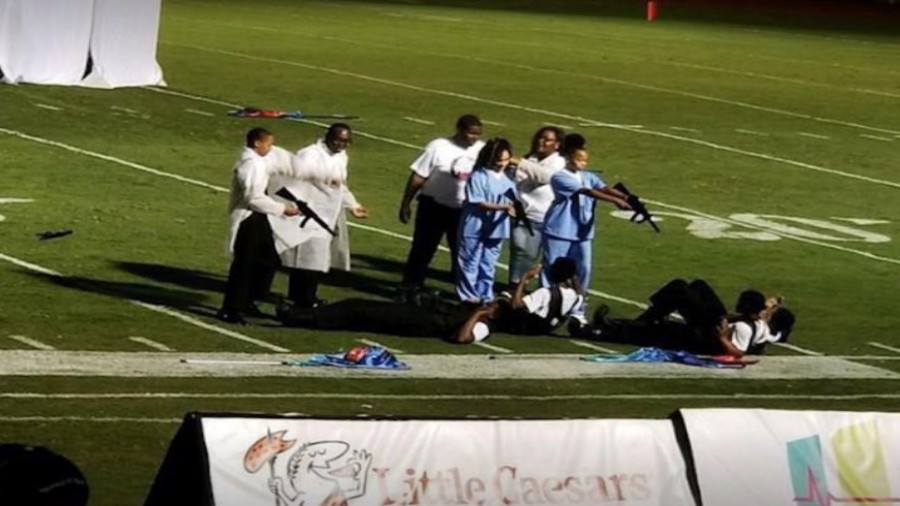 A high school band director in the US has been suspended after an ill-advised halftime show saw students dressed as cops being held at gunpoint. The skit sparked massive viral outrage and demands that those responsible be fired.
The incident happened when Forest Hill High School, hailing from the Mississippi state capital of Jackson, were visiting nearby Brookhaven for a regular high school football clash on Friday night.
However, Brookhaven locals watching the game were shocked after Forest Hill's halftime show, which featured members of the band dressed as doctors and nurses and armed with toy machine guns. Other students, dressed as cops, were held at gunpoint.
What jarred the host community the most was that, just a week before the performance, two members of the town's police force had been brutally gunned down while on duty; many from Brookhaven saw the skit as Forest Hill mocking their tragedy.
Images of the skit quickly went viral over the weekend, with outraged commentators on social media demanding that the students be suspended and staff responsible fired.
While the reason for the skit was explained as being loosely based on a scene from the 2002 drama film John Q, and had been arranged and practiced weeks before the police officers' untimely deaths and the Brookhaven fixture.
Starring Denzel Washington, the movie follows a father unable to pay for his son's heart transplant because he doesn't have adequate health insurance. It involves a scene where John holds a SWAT member hostage before ultimately letting him go.
Tweeting his outrage, Mississippi governor Phil Bryant called the skit "unacceptable in a civilized society," and demanded that "someone be held accountable."
In a statement released Saturday, Jackson's mayor, Chokwe Antar Lumumba, apologized for the incident, confirming that the band director had been suspended while an active investigation was being conducted "into the circumstances that led to this performance."
Lumumba didn't blame the students for their participation in the skit saying: "It is the responsibility of adults to offer guidance to youth."
The mayor's comments were reiterated by the Jackson Public School Superintendent Dr. Erik L Greene: "The band's performance does not depict the values and people in our community, and was incredibly insensitive to the students, families, law enforcement officials and the entire Brookhaven community."
"For this we sincerely apologize to all," he added.
The Mayor of Jackson has since released a statement regarding the performance.
"I offer my sincerest regrets to the Brookhaven community for the insensitivity that portrayed during the Friday evening halftime show. There is an active investigation into the circumstances that led

— The Real C. Collins (@real_C_Collins) October 6, 2018