Is Trump a time traveller or undercover shopper? Doppelganger sends internet into meltdown (VIDEO)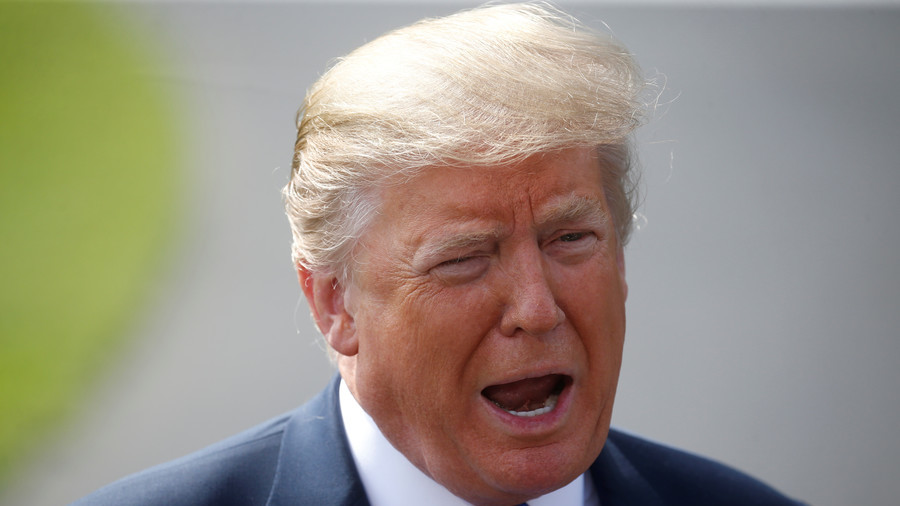 The internet is in a tizzy after a video surfaced on social media of Donald Trump at a gas station… Or was it a man who looks like him? Online sleuths are now on a search for yet another striking POTUS doppelganger.
At first glance, you'd be forgiven for mistaking this mystery man for one of the world's most powerful men. After all, the blonde-haired fellow, wearing a flannel shirt and a US Navy cap, does bear a striking resemblance to the Don.
The six second clip has been watched a staggering 614,000 times on Twitter, with some netizens coming up with obscure reasons as to why the US president could be in two places at once.
"Don't get him in the same room as @realDonaldTrump the encounter could create a time paradox," one Twitter user said, fearing the end of the world.
"I am pretty sure this is time travel", another chipped in, continuing with the suspicion that Donald Trump is actually a time-travelling genius from the future.
Keeping with the sci-fi theories, one netizen mused that Trump's doppelganger is like "an identical twin from a parallel universe!"
Perhaps the orange-tinged president has taken some time out to continue with his showbiz career. Behind him are the days of his star-role in the Apprentice US TV series… but what about Undercover Boss? Or a new idea for a TV show: Secret Shopper.
The video was posted by Twitter user 'Polish Patriot' – who boasts that their profile is a "commies-and-Libtards Free Zone" followed with the Trump-supporting hashtag "MAGA", or "Make America Great Again." It has since been retweeted nearly 4,000 times. Turns out the internet really loves an undercover president.
It's not the first time a Trump lookalike has been spotted. There's also a Spanish farmer out there who bears an uncanny resemblance to the golden-haired president… Or alternatively, time-travelling Trump has us all fooled.
Like this story? Share it with a friend!
You can share this story on social media: