Twitter slams Hillary's 'bombastic laugh' in reaction to Kavanaugh's 'revenge' claim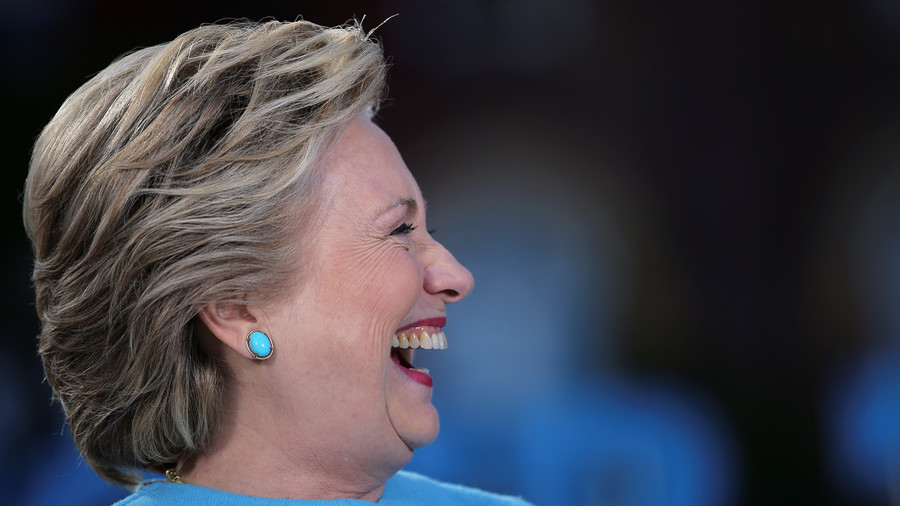 Hillary Clinton said Supreme Court nominee Brett Kavanaugh's claim that sexual misconduct allegations against him amount to "revenge on behalf of the Clintons" was worthy of a laugh – but Twitter did not find her laugh convincing.
The questioning of Kavanaugh by the Senate Judiciary Committee, which concluded on Friday, saw the Supreme Court nominee deliver an emotional and, at times, angry testimony.
His behavior has generated responses from both sides of the aisle, while satire programs like Saturday Night Live also had a field day with it.
Now Hillary Clinton can be added to that list, as the former Democratic candidate has responded to Kavanaugh's claim that the allegations laid against him are related to the Clintons.
"I thought it was part of the whole of his very defensive and unconvincing presentation," Clinton said when asked about the situation at the Atlantic Festival on Tuesday.
"I told someone later, 'Boy, I tell you, they give us a lot of credit — 36 years ago we started this against Kavanaugh.'" She added that his claim "deserves a lot of laughter."
But now the internet is responding to Clinton's response – and some say they aren't surprised that she's turning to laughter... because it's what she does in the face of uncomfortable situations.
"She laughs because BK [Brett Kavanaugh] is right. Look back at her videos. When @HillaryClinton gets called out on her biggest lies, her response is always to put on this overly bombastic laugh she does," Twitter user @CaptainGreenhat wrote.
Even a person who voted for Hillary Clinton had something to say about her "ridiculous laugh."
According to another Twitter user, the laughter is used to mask the fact that Clinton knows Kavanaugh's accusation is true.
Another person took Clinton's laughter as an opportunity to bring up the sexual misconduct allegations against her own husband, saying there was a "mountain of evidence" against Bill Clinton.
Others simply shared a link to audio files unearthed in 2014 which included Hillary Clinton laughing about representing a man who had been accused of raping a 12-year-old girl and laughing about losing faith in polygraphs after he passed one – implying that he was guilty and shouldn't have passed.
If you like this story, share it with a friend!