Georgetown professor says Kavanaugh defenders 'deserve miserable deaths' and should be 'castrated'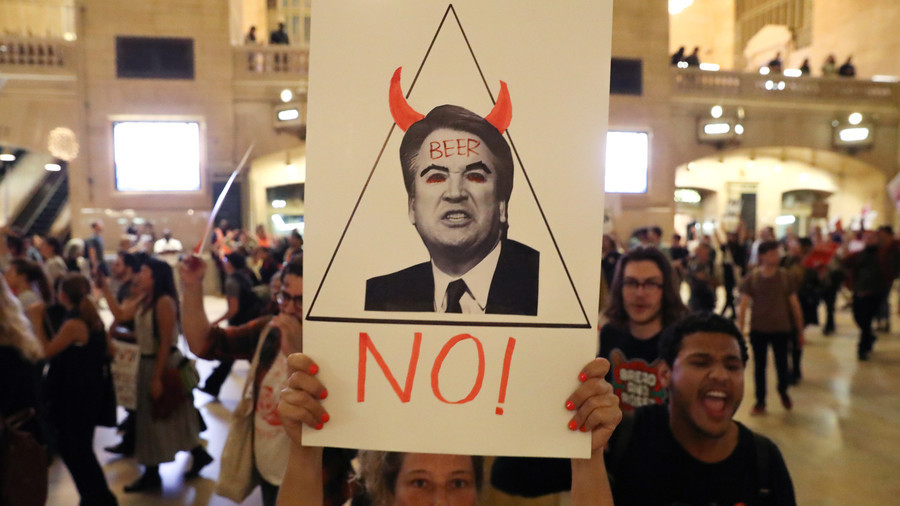 A controversial professor at Washington D.C.'s Georgetown University has tweeted that "entitled white men" deserve to have their corpses castrated and fed to pigs. The university doesn't seem to think there's a problem.
Professor C. Christine Fair tweeted a link to a video of Republican Senator Lindsey Graham speaking in support of Supreme Court nominee Brett Kavanaugh who has been accused of a sexual assault which allegedly took place in 1982 while he was in high school.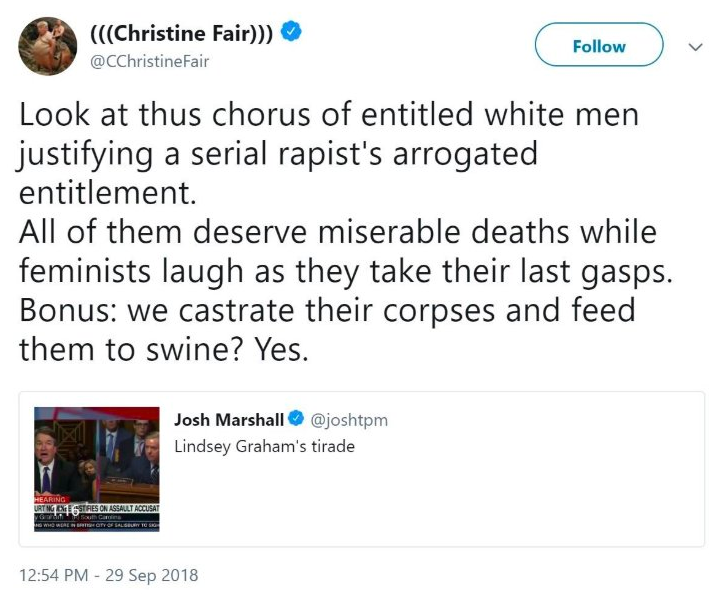 Fair, who is an associate professor at Georgetown's Security Studies program, said that Graham and other Republican senators were "justifying a serial rapist's arrogant entitlement" — despite the fact that there is no evidence to support the claim that Kavanaugh is a "serial rapist."
But Fair, whose Twitter account has since been suspended, didn't stop there. The professor went on to write that the men defending Kavanaugh "deserve miserable deaths while feminists laugh as they take their last gasps."
"Bonus: we castrate their corpses and feed them to swine? Yes"
Surprising (and encouraging) to see that Twitter suspended lunatic Christine Fair's account, but I want to know how @Georgetown justifies employing a scholar who openly advocates for the murder of her political opponents and for the mutilation of their corpses.

— Rod Dreher (@roddreher) October 2, 2018
What #ChristineFair posted was disgusting. As a professor myself, she should be ashamed. She is an educator. She is a teacher. You, ma'am, have no class. We're professionals, educating future generations. To use your position in such a way is foul.

— Adonna Flinchum (@AdonnaMichelle) October 2, 2018
Fair's employer, Georgetown University, did not seem too bothered by Fair's comments, however. In a statement given to the Daily Caller website, Georgetown said that the views of faculty members expressed in private capacities are "not the views of the University" and that the institution's policy "does not prohibit speech based on the person presenting ideas or the content of those ideas, even when those ideas may be difficult, controversial or objectionable." Georgetown said Fair was entitled to freedom of speech, but added that "classrooms and interaction with students be free of bias and geared toward thoughtful, respectful dialogue."
READ MORE: White-out? Yale offers 'Constructions of Whiteness' course that critics call racist
Georgetown's tepid response raised a few eyebrows online, with many saying that Fair should be fired at the very least. At least one user went as far as saying the university deserved to lose donor and alumni support.
If Christine Fair represents what Georgetown is about, and your lack of comment on the matter indicates that it is, you deserve to lose donor and alumni support.

— Ed Callahan (@EdCallahan44) October 1, 2018
@Georgetown does Christine Fair represent the quality of staff the you employee to educate? She needs to be terminated.

— Gary Apple (@usmchky) October 2, 2018
@Georgetown You are a Catholic and Jesuit institution of higher learning with strong Christian leanings. The tenure of Dr Carol Christine Fair should bed ended due to the hateful and aggressive remarks she made about violence to white politicians. Does not enhance your image.

— Not Political (@NotPolitical5) October 1, 2018
@Georgetown A college should be from from hate. Your professor, Christine Fair, should be investigated and potentially removed. Freedom of speech doesn't apply to only liberals, and students should never be discouraged from participating in views that oppose the left. #remove

— BismarckSD (@Bismarck_SD) October 1, 2018
Fair got away with extreme and problematic statements before. In 2017, former Georgetown professor Asra Nomani claimed that Fair had harassed her and sent her "hateful, vulgar" messages when she admitted she had voted for Donald Trump for president. Nomani wrote a letter of complaint about Fair to Georgetown in which she included images of tweets she said were sent to her by Fair.
This isn't the first time Christine Fair has made irresponsible remarks of this nature; which are not only irresponsible, but dangerous. Unfortunately, this type of irrational hatred and venom is common in academia.

— Antoine Dennison (@AntoineDennison) October 2, 2018
"I've written you off as a human being. Your vote helped normalize Nazis in DC. What don't you understand, you cluless [sic] dolt?," read one of the tweets from Fair. In another tweet, Fair called Nomani a "fame-mongering clown show".
Later, Fair responded to Nomani in an expletive-laden "open letter" on Facebook in which she admitted telling Nomani to "go to hell" and "f*ck off" in private messages. She said her tweets to Nomani "did not violate Twitter rules." In the letter, Fair also accused Nomani of "cyber bullying" and made fun of her, claiming she "has no job." Earlier this year, Fair was reportedly detained at an airport in Germany after allegedly calling officers there "Nazi police."
RT has contacted Georgetown University for comment.