#KillKavanaugh tops list of Twitter hashtags & autofill suggestions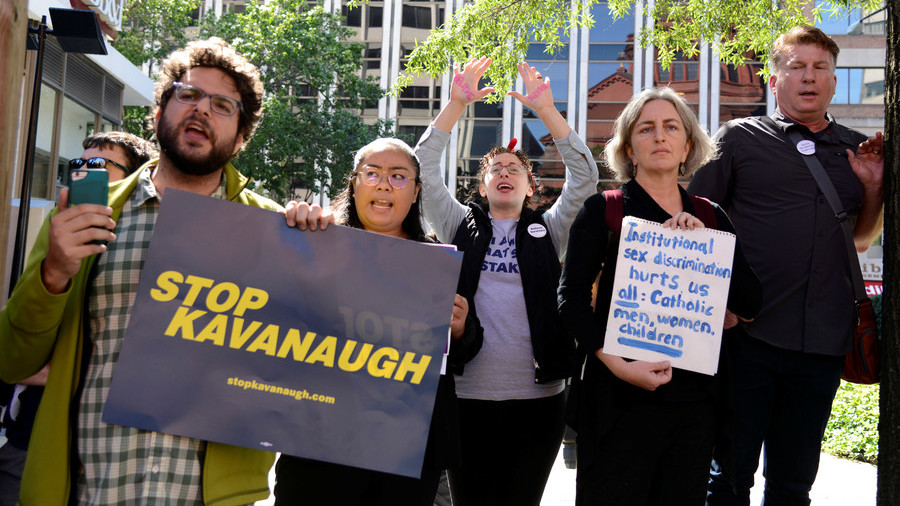 Typing a word "kill" into Twitter search returns an appalling drop-down result – it turns out that #KillKavanaugh currently appears to top the list of search and hashtag suggestions.
The bizarre search suggestion was spotted earlier on Monday by Instapundit, a libertarian blog run maintained by Glenn Reynolds, a law professor at the University of Tennessee. The notable find comes just days after fresh episodes of a saga involving the federal judge Brett Kavanaugh and sexual assault claims against him.
Currently, at the time of composing this article, #KillKavanaugh is the first autocompleted suggestion in searches for "kill."
That said, by typing this word into the Twitter search, users might easily come across the hashtag discussing the death of Donald Trump's pick for the Supreme Court.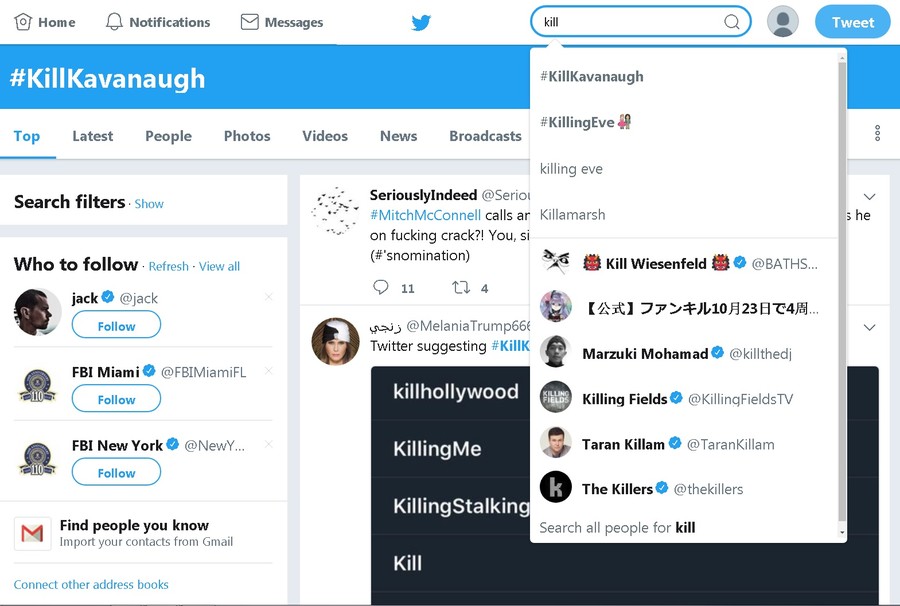 Responsible users rushed to blame Twitter for not removing the offbeat hashtag from its search suggestions. Some said the microblogging service will bear its share of responsibility if "something bad" happens.
The @FBI@SecretService need to see this. Threats against his life should be taken seriously! Scary! Unreal that twitter allows this.

— Such Were the Joys (@laughing_ginger) September 30, 2018
Meanwhile, others had uploaded screenshots confirming that #KillKavanaugh overshadows other, less toxic hashtags.
Others reminded pro-Trump actor James Woods who was banned from Twitter from meme sharing. The image he posted three men promising to stay at home in November's midterm elections to "make a woman's vote worth more."
Woods claimed he was being singled out despite the fact that numerous other people had posted the similar image, often without text qualifying that it was a hoax.
It remains a mystery whether the hashtag is metaphorical and is calling for the very nomination to be "killed" rather than Justice Kavanaugh himself. Some second-tier US media, such as The Washington Times, published stories discussing to "kill" Kavanaugh's confirmation hearing – in slightly the same way that legislation might be "killed."
Twitter search algorithms made headlines earlier in July when it emerged that browsing for accounts of several prominent Republican lawmakers, such as GOP chairwoman Ronna McDaniel or representatives Mark Meadows (R-North Carolina), Jim Jordan (R-Ohio), and Matt Gaetz (R-Florida), produced no results in the drop-down menu.
READ MORE: Shadowbanned: Prominent Republicans missing from Twitter search
Responding to VICE at the time, a Twitter spokesperson said the platform was "aware that some accounts are not automatically populating in our search box and shipping a change to address this." However, the spokesperson blamed the "behavior" of the accounts in question when confronted with the partisan nature of the search problem.
Subscribe to RT newsletter to get stories the mainstream media won't tell you.
You can share this story on social media: