USA Today adds 'pedophilia' angle to Kavanaugh saga, sparks outrage
Published time: 29 Sep, 2018 14:19
Edited time: 1 Oct, 2018 17:34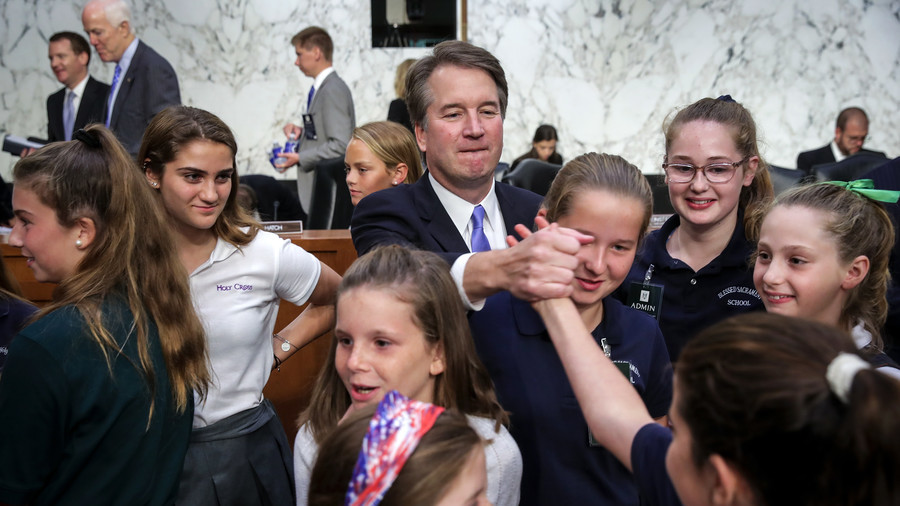 With tensions over SCOTUS nomination at a boiling point, a USA Today article discusses if Brett Kavanaugh should continue coaching girls' basketball team, bringing into the story recent child sex abuse scandals in US sports.
The article by USA Today's Erik Brady has triggered a major backlash among conservatives on social media.
The FBI is now investigating the accusations of Christine Blasey Ford that Kavanaugh assaulted her 36 years ago, after both gave emotional testimonies at the Senate Judiciary Committee that decided to move the Supreme Court nominee vote to the full Senate.
Kavanaugh denies he is the culprit in the attack on Ford and accuses Democrats of orchestrating the scandal that he says ruined his life. Brady focuses his vitriolic piece on Kavanugh's remark during the hearing that he might not be able to coach his daughter's basketball team again – something that he said he loved more than anything he has done in his life.
The article's headline "Is Brett Kavanaugh right that he can no longer coach girls basketball?" remains rhetorical throughout and leads to the conclusion that "accused sex offenders should not coach youth basketball, girls or boys, without deeper investigation."
Brady brings in references to the case of Larry Nassar, USA Gymnastics team coach who was found guilty of multiple sexual assaults, and after setting this background for the readers expresses his surprise that Kavanaugh can still coach for the Catholic Youth Organization and his daughters' private school in Washington.
"He has no record and has no criminal background. He's gone through the (training) process. He can coach," Edward McFadden, spokesperson for the Archdiocese of Washington is quoted.
Yet Brady goes on to wonder if he should and brings in the US Center for SafeSport, set up in 2017, to probe sexual misconduct claims while admitting that it has essentially no relation to the issue, as it does not cover youth sports.
The organization's spokesperson, Dan Hill, says that a credible allegation of sexual misconduct may spark an investigation even with the lack of formal charges. Again, Hill did not refer to Kavanaugh, speaking in general, Brady concedes, but his remark fits the narrative anyway.
As soon as the US Today article came out, conservative Twitter responded with indignation and outrage.
Some saw the piece as a reflection of partisan brinkmanship, that is getting uglier as the congressional elections inch closer.
The conservative commentators did not mince words, calling the op-ed "disgusting," "horrifying", "reprehensible" and "stupid".
Have the Left have reached the bottom yet? – Mike Cernovich, right-wing political activist and writer asked.
The question will probably also have to remain rhetorical, though.