Trump authorizes new sanctions against foreigners who meddle in US elections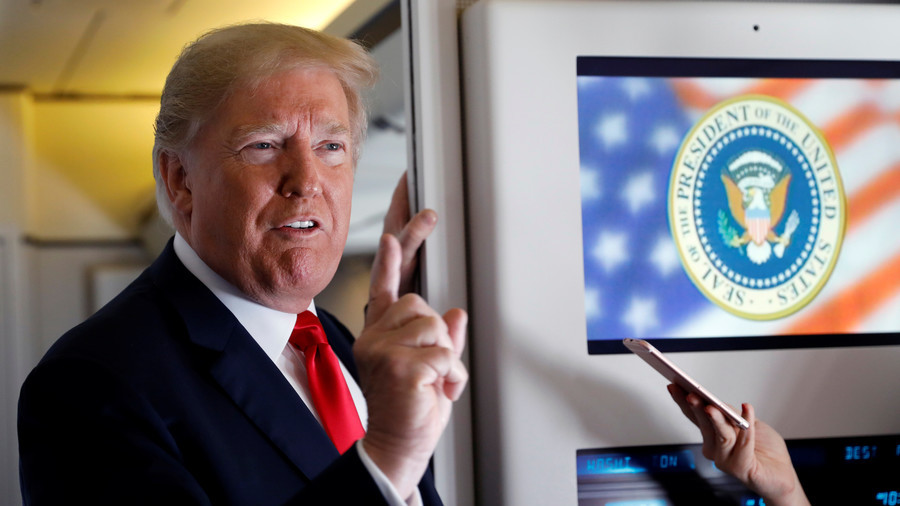 President Donald Trump has signed an executive order that will slap sanctions on foreign companies or people who interfere in US elections.
The sanctions will target anyone attacking election infrastructure or distributing propaganda or misinformation, national security adviser John Bolton claimed. The order, Bolton said, will "protect the United States from foreign interference in our elections and really our political process more broadly."
The order will allow the Director of National Intelligence to identify parties "acting as an agent of or on behalf of a foreign government" with the "intent or purpose of interfering" in elections, and direct the Treasury Department to apply sanctions. In making that assessment, the DNI will consult with all of the US' multifarious intelligence agencies.
Potential sanctions could include a block on financial transactions, export license restrictions, restrictions on access to American financial institutions and investments, and restrictions on entry to the US.
"I don't even understand how you would even apply this," legal and media analyst Lionel told RT.
The order is so ambiguous that it might be impossible to implement, Lionel said, adding that a proper legal statute would define the terms it applied to, but this executive order does not.
"Propaganda is in the eye of the beholder," Lionel told RT. "If I say something that you absolutely disagree with… is that disinformation? Is that propaganda?"
While not strictly specified, the order more than likely targets Russia. White House Special Counsel Robert Mueller has indicted 13 Russian individuals and three companies for allegedly meddling in the 2016 presidential election. These so-called 'Russian hackers' supposedly purchased Facebook advertisements in an attempt to sway debate, but even Deputy Attorney General Rod Rosenstein admitted that no proof exists that the final election result was actually influenced.
Director of National Intelligence Dan Coats told reporters on Wednesday that the US is not currently seeing a Russian interference campaign, but warned that "it's only a keyboard click away." Coats did not tell reporters what evidence, if any, the intelligence community has seen of Russian hacking this year, but mentioned that he had seen "capability and attempts" from Iran, China, and North Korea as well.
Trump's order comes less than 100 days before American voters head to the polls for the midterm elections, and just two months after Trump was derided by both Democrats and Republicans for declining to press Russian President Vladimir Putin harder on Russia's alleged election meddling, after the pair met in Helsinki.
Like this story? Share it with a friend!