F-35 lands nose-down after midflight emergency over Florida (PHOTO)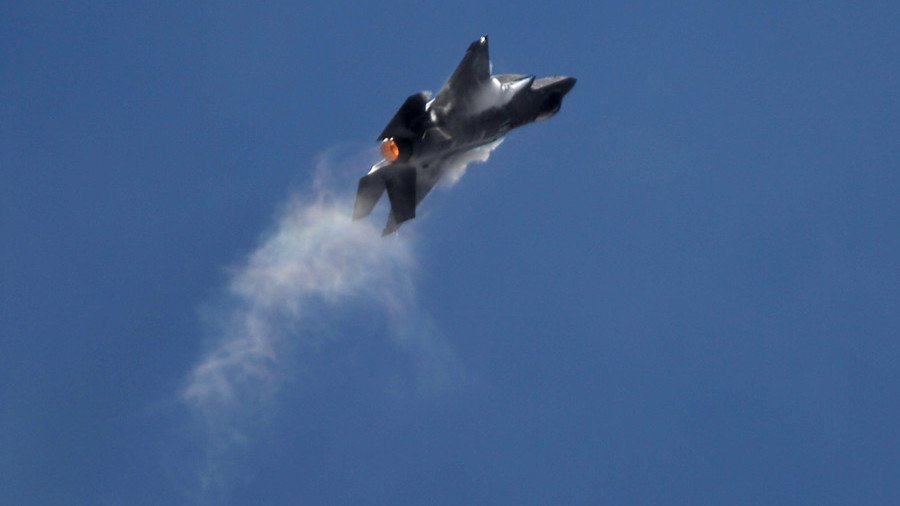 An F-35A Lightning II assigned to the test squadron of the US Air Force has suffered an in-flight emergency and was forced to land at Eglin Air Force Base in Florida, where its front nose gear collapsed.
The fifth-generation stealth fighter assigned to the 58th Fighter Squadron experienced a technical malfunction over Floridian skies, which forced the F35 to perform an emergency landing at approximately 12:50pm.
"The F-35A experienced an in-flight emergency and returned to base. The aircraft landed safely and parked when the front nose gear collapsed," 33rd Fighter Wing, a professional graduate flying division for the F-35s, said in a statement.
After a mid-air emergency forced an F-35A fighter jet to return to Eglin Air Force Base, the plane's landing nose gear collapsed, leaving the 5 generation fighter face down on the runway. F-35 assigned to the 58th Fighter Squadron.The incident happened around 12:50 PM Wednesday. pic.twitter.com/AjbjO6zbFy

— Kevin Sky🎖️ (@EmirLouise) August 22, 2018
Fire crews immediately rushed to the scene to pull out the pilot of the jet. No one was injured in the incident, the statement said, failing to mention what caused the initial problem of the F-35 in midflight, and why its front landing gear collapsed. An investigation into the emergency continues. The extent of the damage to the aircraft is unknown.
This is not the first time that the notorious F-35, built by Lockheed Martin, was reported to have suffered problems with its landing gear. A recent Pentagon report noted that some versions of the F35s were experiencing "unanticipated cracks in the main landing gear and structural frame." Last year the Navy pilots complained that the jet "would bob up and down on its nose gear when being launched from a catapult," Defense News reported.
Think your friends would be interested? Share this story!
You can share this story on social media: