Trump says he's ready to meet Iran's Rouhani 'any time' & with 'no preconditions'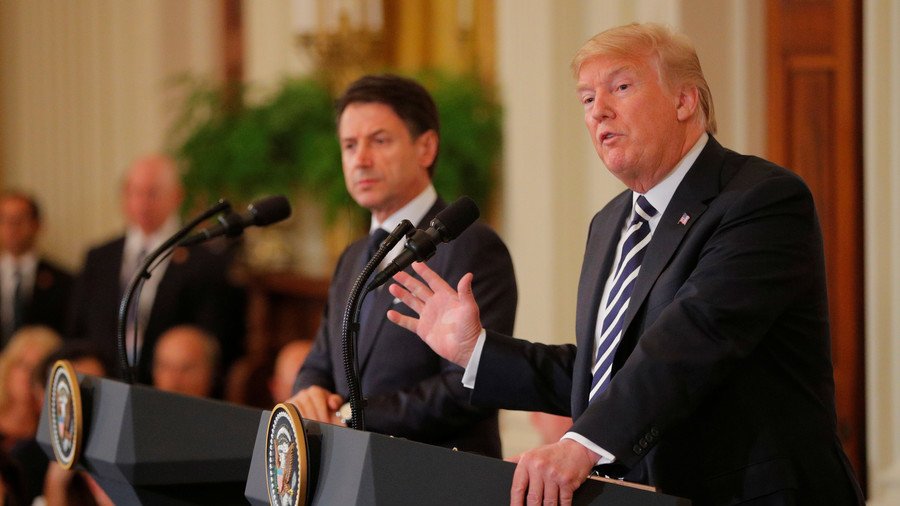 US President Donald Trump has said that he is willing to meet with his Iranian counterpart, Hassan Rouhani with no preconditions. "Anytime they want," he told reporters, "if they want to meet, I'll meet."
Trump made his comments while speaking to reporters after a White House meeting with Italian Prime Minister Giuseppe Conti on Monday. "I would certainly meet with Iran, if they were ready to meet," he said.
A self-described negotiating genius, Trump added that he would "meet with anybody."
While Trump and his cabinet have taken a hardline approach to Iran, Trump has threatened foreign adversaries with war before, and then softened his tone and welcomed them to the negotiating table, as was the case with North Korean Leader Kim Jong-un.
Trump pulled the United States out of the Joint Comprehensive Plan of Action (JCPOA), or Iran deal this year – which offered Iran sanctions relief in exchange for halting nuclear expansion – but hinted on Monday that he would be open to negotiating a new agreement with Tehran "If we could work something out that's meaningful, not the waste of paper like the other deal was."
In the meantime, the US looks set to continue its pressure campaign of sanctions and threats against the Islamic Republic. Last week, Trump threatened Rouhani with "CONSEQUENCES THE LIKES OF WHICH FEW THROUGHOUT HISTORY HAVE EVER SUFFERED BEFORE," in a bizarre all-caps warning via Twitter.
Trump was responding to an earlier statement from Rouhani who urged Washington to refrain from provoking Iran unless it wants "the mother of all wars" to break out.
"The Americans must understand well that peace with Iran is the mother of all peace, and war with Iran is the mother of all wars," Rouhani stated, adding that "it would only lead to regret."
As speculation mounted over the possibility of war with Iran in the near future, Defense Secretary James Mattis assured reporters that the US has no policy in place for regime change in Iran, and called speculation that the US was about to launch an attack "fiction."
With renewed US sanctions imminent, Iran's currency hit a record low of 100,000 rials to the dollar on Sunday, losing half its value in four months.
Like this story? Share it with a friend!
You can share this story on social media: