'Firenado' flames lick roadside as emergency services battle California blaze (VIDEO)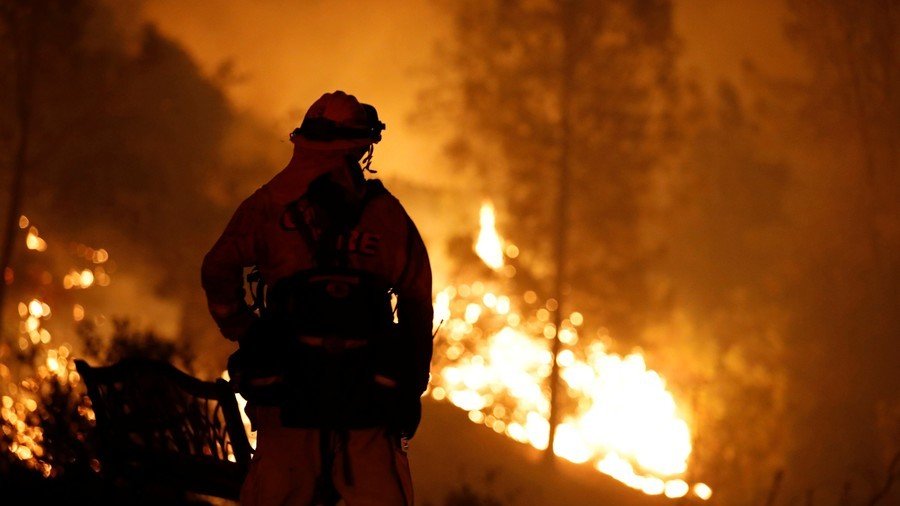 California's raging Carr Fire has now scorched more than 48,000 acres of land, with firefighters filming how strong winds whipped flames into a deadly tornado as they battled to put out the persistent blaze.
California is facing a fire crisis at the moment with extremely dry weather making grassland ripe for the spread of wildfires. In Shasta County, where the Carr Fire is burning, an estimated 38,000 people have already fled their homes, according to ABC7.
Now firefighters servicing the Whiskeytown National Recreation Area, where whole wooded areas were filmed burning bright red, have released images of the extremely dangerous conditions the face.
One phenomenon facing emergency services is the firenado, or fire whirl, which sees wind whip up ash and flames into a tornado. The red hot twister of wind and flames was filmed as firefighters drove threw burning woodland in California on Friday.
"Here is a video of the Peardale Chicago Park Fire engine getting real close to a fire whirl," California's Peardale Chicago Park firefighters stated in an Instagram post. "The team has been conducting structure defense and back burns to save as many homes as possible."
The American Red Cross is providing shelters to those who evacuated from their homes, with around 570 people said to now be staying at the organisation's temporary accommodation.
Making reference to a 'fire whirl' phenomenon, California fire chief Ken Pimlott praised the "herculean" effort of emergency services on Friday and also offered his condolences to the families of two firefighters who lost their lives battling the massive blaze.
Pimlott said California's long standing drought is increasing the fire threat in the state, with any rainfall doing little to stop vegetation from becoming dry kindling. Pimlott added that resources are being transported throughout the state to protect life and critical infrastructure in the "extreme" conditions.
Think your friends would be interested? Share this story!
You can share this story on social media: