Collusion! Twitter melts down as Trump Jr. and Mueller spotted at same airport gate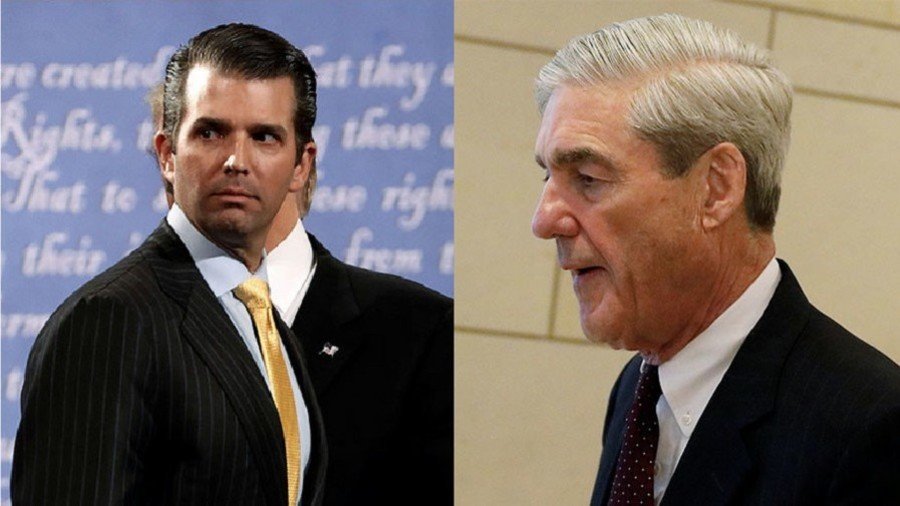 Special Counsel Robert Mueller and Donald Trump Jr. were photographed at the same airport gate, setting tongues in Washington wagging about the ongoing 'Russiagate' investigation, flying in coach class, and the notorious Gate 35X.
The photo, published by Politico on Friday, shows Mueller and Trump Jr. at Gate 35X of the Ronald Reagan Washington National Airport (DCA). The special prosecutor is seated on the left of the photo, reading a newspaper. Behind him, to the right, the president's son is talking on his cell phone.
The two men are seemingly unaware of each other. That has not stopped the #Resistance from fantasizing about the "meeting."

A NBC reporter wondered why President Trump's son would be flying commercial. Donald Jr. and his brother Eric have run the Trump Organization since their father was sworn into office in January 2017. Trump has famously used his full-size private jet on the campaign trail, so why was his son flying coach, and to where?
A Politico reporter answered the second question at least, confirming that the flight was headed to Westchester County Airport in New York.
The one thing DC pundits, Trump supporters and #Resistance types could agree on is that the Gate 35X in DCA's Terminal C was "one of the worst airport gates ever, anywhere, of all time," as Jessica Sidman of The Washingtonian put it.
The gate is actually a conduit to a bus terminal, where passengers board shuttles to the small airplanes parked on the tarmac. Around 6,000 people pass through it every day.
Think your friends would be interested? Share this story!
You can share this story on social media: