Pipe explosion fills Manhattan streets with steam (PHOTO, VIDEO)
Published time: 19 Jul, 2018 12:50
Edited time: 20 Jul, 2018 09:25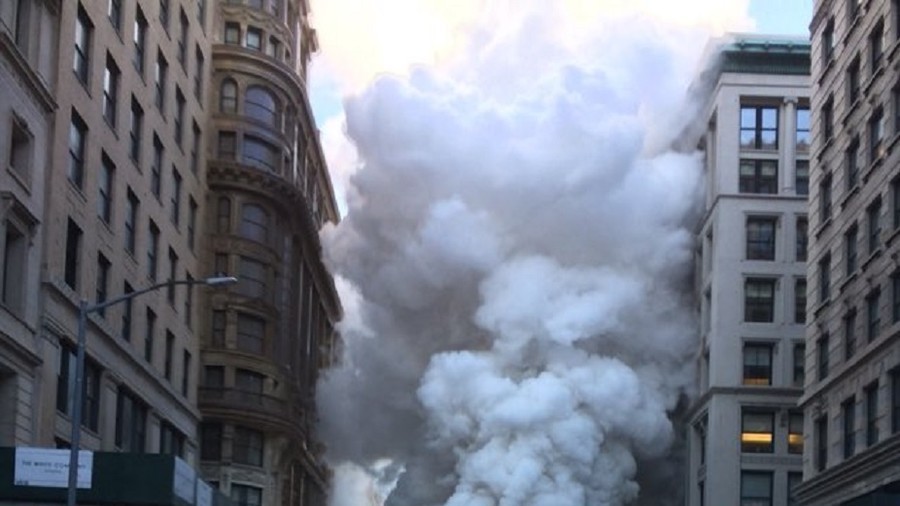 More than a hundred firefighters have been called on site to respond to a huge steam pipe explosion in the Flatiron District in Manhattan, New York.
The incident occurred at around 6:40 AM on the on Fifth Avenue between 22nd and 21st streets, the CBS reports.
The blast ripped the pavement apart, with massive plumes of steam coming from the crack. At least, five high-pressure steam pipes exploded in Flatiron District, according to the New York Post.
Fifth Avenue was closed to traffic from 30th to 14th Street due to the blast, while R and W trains bypassed 23rd Street in both directions to turn the morning rush hour into a nightmare.
The explosion in Manhattan was "pretty violent," an eye witness told New York Daily News. "The steam was shooting up into the air about 70 feet… The cars around were coated in mud... It left a huge crater in the middle of the street."
There have been no fatalities of injuries reported so far, but the New York authorities have evacuated the people from the nearby buildings as a precaution.
Two hours after the blast, the emergencies services have been unable to contain the steam leakage, the NBC reported.
Con Edison, which provides steam service in Manhattan, said that it was conducting environmental testing for asbestos and other contaminants near the site. The Company also urged anyone, who was affected by the debris, to take a shower and change their cloths.
Like this story? Share it with a friend!