What did Trump promise Putin? Bring his interpreter to Congress & find out, Democrats insist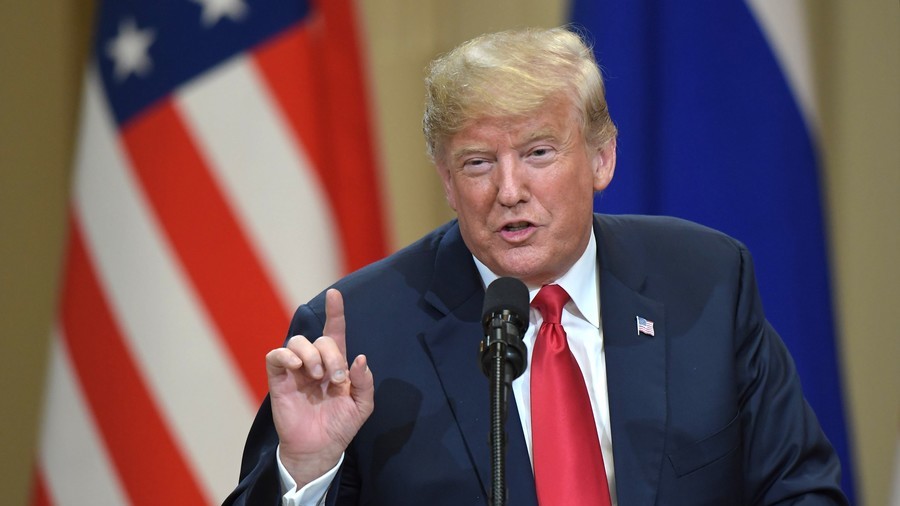 Did Donald Trump secretly surrender America to Vladimir Putin in Helsinki? Suspicious Democrats want to know the truth by bringing the State Department interpreter to testify before Congress.
The first direct Trump-Putin talks on Monday were savaged by the critics. The US president was branded a "traitor" and "Putin's poodle," with political opponents and some members of his own party accusing him of "siding with the enemy."
Trump predictably took a lot of flak for the statements he made during the press conference after the talks ended. But what did he and Putin actually discuss at their two-hour meeting? Some Democrats are keen to find out, and suggest his interpreter should clear things up.
The idea was initially voiced by Congressman Joe Kennedy III. "Trump's translator should come before Congress and testify as to what was said privately immediately," he tweeted shortly after the president parted ways with Putin in Helsinki.
And that was only what we saw on live TV. @realDonaldTrump's translator should come before Congress and testify as to what was said privately immediately. If Republicans are as outraged as they claim, then issue the subpoena today. 2/2

— Rep. Joe Kennedy III (@RepJoeKennedy) July 16, 2018
The call to subpoena the interpreter was picked up by Senator Jeanne Shaheen, who said the State Department official will "uncover" what Putin and Trump discussed privately and help determine what the US president "shared with or promised Putin on our behalf."
Congressman Bill Pascrell penned a letter to the leadership of the House Committee on Oversight and Government Reform, urging it to hold a public hearing with the US interpreter present at the Helsinki talks. This will reveal what was agreed "behind closed doors," he wrote.
I'm calling for a hearing with the U.S. interpreter who was present during President Trump's meeting with Putin to uncover what they discussed privately. This interpreter can help determine what @POTUS shared/promised Putin on our behalf.

— Sen. Jeanne Shaheen (@SenatorShaheen) July 17, 2018
The State Department interpreter in question is Marina Gross who has been accompanying US delegations overseas since the days of the George W. Bush administration. If subpoenaed to appear before Congress, she would be required to testify under oath. It means Gross can be tried for perjury if she lies or otherwise willingly misleads the public.
The disclosure of private conversations by interpreters usually goes against codes of conduct adopted by professional organizations.
"In general, any information that's confidential has to remain confidential even if you're an interpreter. For example, attorney-client confidentiality extends to the interpreter," American Translators Association spokeswoman Judy Jenner told The Hill. "But as a diplomatic interpreter, you are probably aware of how precarious things could possibly be."
READ MORE: Lost in translation: CNN claims Putin admitted to election-meddling. He did not. (VIDEO)
The notion that Trump might be having shady talks with Putin behind everybody's back was floated by several prominent Democrats, such as House Minority Leader Nancy Pelosi and the head of the CIA under Barack Obama, John Brennan. "Why did Trump meet 1 on 1 with Putin? What might he be hiding from Bolton, Pompeo, Kelly, & the American public?" Brennan tweeted as the Helsinki talks were commencing.
Think your friends would be interested? Share this story!
You can share this story on social media: