Miracle or hoax? US church believes Virgin Mary statue is 'weeping' rose-scented oil
Published time: 17 Jul, 2018 17:02
Edited time: 18 Jul, 2018 07:50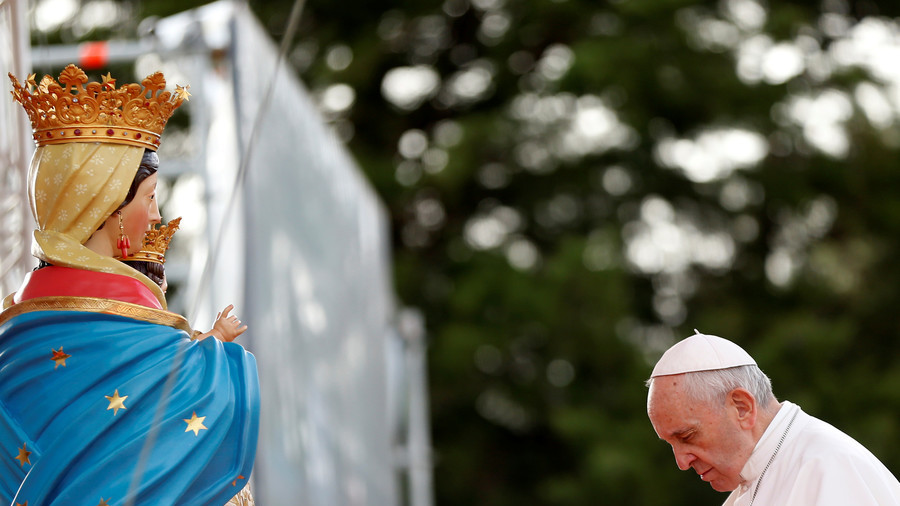 The Catholic Church is investigating after reports that a Virgin Mary statue in the US is crying 'tears' of rose-scented oil. The church will now try to figure out if is a hoax, however nothing seems amiss with the bronze statue.
Bishop Oscar Cantu, of the Our Lady of Guadalupe Church in Hobbs, New Mexico, told the Las Cruces Sun News that the tears seem like "something similar to the oil I bless and consecrate each year that we use for baptism, for confirmations and for ordination of the priests", and "witnesses claimed it smelled of roses."
The Catholic Church will now try to figure out why the statue has begun to weep, and will make the tough decision: hoax or miracle?
"There's nothing on the interior that's not supposed to be there, except for cobwebs," Cantu said. "So we took pictures; we examined it… even if it were [a hoax], we are not sure how it would be done, physically, because it is hardened bronze."
The south New Mexico bishop then related the tearful statue back to those suffering at the Mexico-US border as a result of the Trump administration's zero-tolerance immigration policies, saying it makes him think of "the tears of those children who are separated from their parents."
READ MORE: #FamiliesBelongTogether: Nationwide protests over immigrant separations, detentions (PHOTOS, VIDEOS)
According to Cantu, if the church concludes the origin of the tears is supernatural, it then must decide whether they're from god or an evil spirit - but he did admit he would "defer to the wisdom of Pope Francis."
Like this story? Share it with a friend!