Group pledging $5mn to defeat Kavanaugh's Supreme Court nomination funded by Soros – report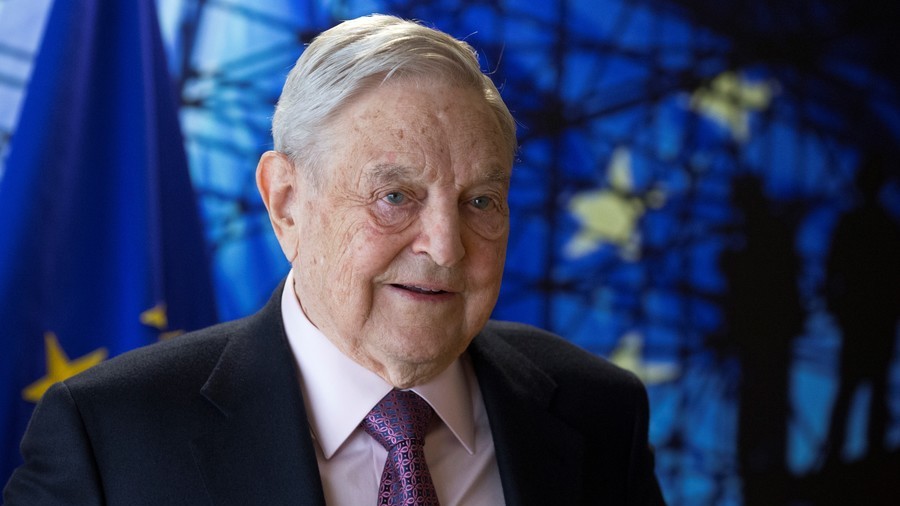 A group that pledged $5 million to stop Donald Trump's Supreme Court nominee Brett Kavanaugh from being appointed to the post is partly funded by Hungarian billionaire George Soros, a Daily Caller investigation revealed.
The new advocacy group Demand Justice is behind the website stopkavanaugh.com, which refers to Trump's Supreme Court pick as being "anti-healthcare,""anti-abortion," and "Trump's rubber stamp."
"If confirmed, Brett Kavanaugh will serve on the court for life, shaping the future of our country long after Trump is out of office," the website reads.
The group, which is run by former Senate minority leader Chuck Schumer aide Brian Fallon – Hillary Clinton's former campaign press secretary – has vowed to spend $5 million on the effort to stop Kavanaugh from being confirmed, with part of that money going towards ads aimed at pressuring moderate Republicans, according to AP.
The group is financed and administratively supported by the Sixteen Thirty Fund, which collected some $2.2 million in contributions from Soros' Open Society Policy Center (OSPC) from 2012 to 2016, according to the Daily Caller.
Soros is no stranger to action opposing the president, with many anti-Trump protests in the US organized by groups sponsored by the billionaire. One of those groups is MoveOn.org, which has been an organizing force behind many of those demonstrations.
In addition to Fallon, the ranks of Demand Justice include other Clinton campaign alums, while former Obama aide Christopher Kang serves as chief counsel for the group.
Trump nominated Kavanaugh, 53, as Supreme Court justice on July 9, calling him a man with "impeccable credentials, unsurpassed qualifications, and a proven commitment to equal justice under the law." The president's decision is extremely important for both sides of the aisle, as Supreme Court justices remain in their positions until death or until they decide to retire.
Although the court would remain at a 5-4 conservative majority if Kavanaugh is confirmed, his appointment could still tip it to the right, which is a major a concern for liberals. This is because Justice Anthony Kennedy – who he would be replacing – sometimes sided with liberal justices when it came to rulings on social issues like abortion and gay rights, and it remains unknown how Kavanaugh will tilt when it comes to such topics.
Democrats were outraged at Trump's conservative pick, worrying that the decision would lead to an overturning of rulings on abortion and same-sex marriage, as well as an easing of gun restrictions and protection of Trump against the threat of indictment.
Demand Justice isn't the only party trying to block Kavanaugh's nomination. Following Trump's announcement, the group Indivisible launched a campaign known as #savescotus, in which it deployed activists to show up at the district offices of senators to demand they oppose Kavanaugh in the upcoming Senate vote. And just hours after Kavanaugh was announced as Trump's choice, hundreds of liberal activists gathered on the steps of the Supreme Court for a rally organized by dozens of left-leaning groups.
On the other side of the coin is the conservative advocacy group Judicial Crisis Network, which reserved more than two dozen internet domain names – one for each candidate on Trump's list of potential Supreme Court picks – before the president's announcement, in a push to help whoever he chose to get confirmed. It has pledged to spend $1.4 million in television advertisements supporting Kavanaugh.
Officials within the Trump administration are pushing for hearings and a confirmation vote by October 1, in time for the court's new term. Republicans have 51 seats in the Senate, but Sen. Susan Collins (R-ME) has already accused Kavanaugh of not being qualified for the job, indicating that she wouldn't vote for his confirmation. In addition to this, Sen. John McCain (R-AZ), who is battling brain cancer, has been absent from Washington all year for health reasons. If he remains in his seat but is unable to turn up and vote, this could present another curve ball for Republicans, who could ultimately find themselves relying on Democrats in order to see Kavanaugh confirmed as Supreme Court justice.
If you like this story, share it with a friend!