Lindsey Graham says Russian 'spy-ball' gift from Putin can't be trusted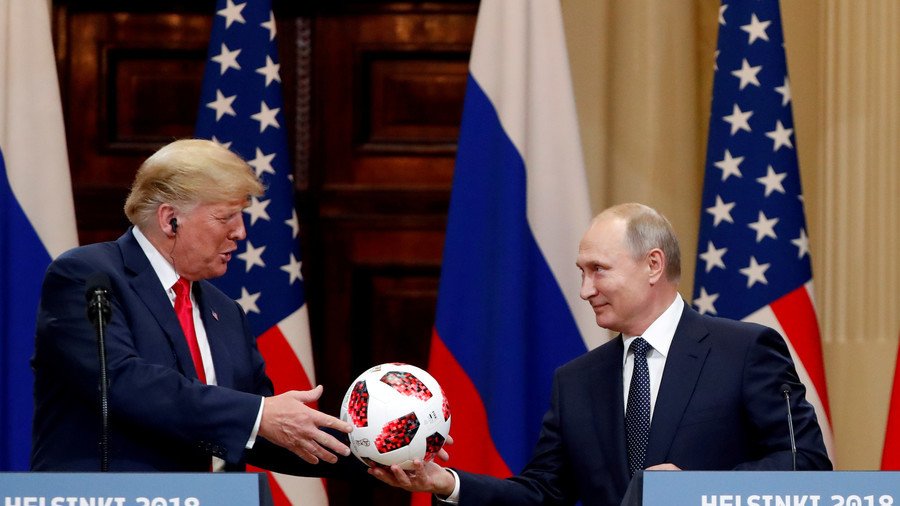 Was a commemorative soccer ball given to President Trump by Russian president Vladimir Putin a simple gift or a nefarious spying device? One US senator wants it checked out.
After Trump congratulated his Russian counterpart on hosting a successful World Cup, Putin presented Trump with the commemorative ball, telling him "now the ball is in your court."
Trump tossed the ball to his wife, First Lady Melania Trump, to give to their 12-year-old son, Barron.
The gift was a welcome moment of warmth as both leaders faced a grilling from the US media over alleged Russian collusion and interference in the run-up to the 2016 US election. However, to Senator Lindsey Graham (R-South Carolina), the ball might hide a sinister spying device.
Finally, if it were me, I'd check the soccer ball for listening devices and never allow it in the White House.

— Lindsey Graham (@LindseyGrahamSC) July 16, 2018
Seeing reds under the bed, Graham took to Twitter, ending his rant against the summit by suggesting that Trump have the ball checked for "listening devices and never allow it in the White House," lest scary Vladimir listen in on Barron Trump talking girls and video games.
Graham has perhaps watched too many Cold War dramas, where the KGB bugged shoes, fired poison pellets from umbrellas, hid cameras in wristwatches and microfilm in coins.
Upon return to the US, the ball will almost certainly be picked apart by Q-Branch, while Graham sips a martini and celebrates another day of saving the Western world from the red menace.
If you like this story, share it with a friend!
You can share this story on social media: